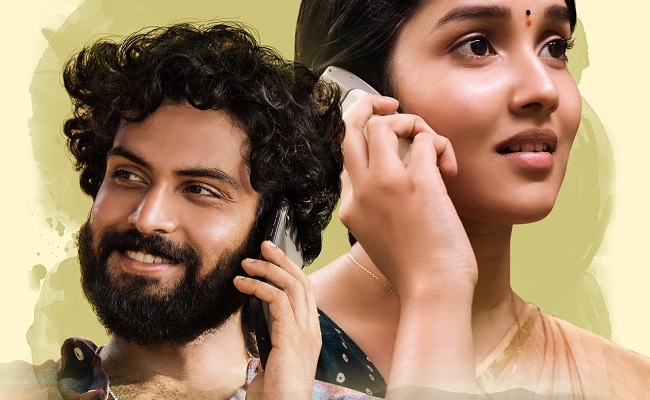 Movie: Butta Bomma
Rating: 2/5
Banner: Sithara Entertainment, Fortune 4
Cast: Anikha Surendran, Arjun Das, Surya Vashistta, Navya Swamy, and others
Screeplay-Dialogues: Ganesh Ravuri
Music: Gopi Sundar
Cinematographer: Vamshi Patchipulusu
Editing: Navin Nooli
Producers: Naga Vamsi S, Sai Soujanya
Direction: Shouree Chandrashekhar T Ramesh
Release Date: Feb 04, 2023
Although "Butta Bomma" does not feature any well-known actors or actresses, it has nonetheless attracted attention. Most notably, it is produced by a top-tier company, Sithara Entertainments.
Let's find out its merits and demerits.
Story:
Satya (Anikha Surendran) is a young girl who lives in Araku with her parents. Satya assists her mother in achieving tailoring orders. When her mother asks her to contact a client, the daughter dials Murali's (Surya Vashistta) number by accident.
Satya is drawn to his voice, and as their conversations become more frequent, she falls in love with Murali, an auto driver. They make the decision to meet in Vishakapatnam.
When a mysterious man named RK (Arjun Das) walks into their lives, chaos ensues.
Artistes' Performances:
Anikha Surendran, who began her career as a child actor, made her debut as a heroine in this film. Anikha has done a decent job portraying an innocent poor rural girl.
Surya Vashishtta is also okay for the role of auto driver. Arjun Das is another right choice for the tough and rough guy. Navya Swamy, a TV actress, makes a brief appearance.
Technical Excellence:
The cinematography is satisfactory. The cinematographer adhered to the visual style of the original film. Songs should have been catchier. The dialogues of Ganesh Ravuri are neat.
Highlights:
Story and screenplay
The second half
Drawback:
Slow-paced narration
The first half
Soul missing
Analysis
The film "Butta Bomma" is a remake of the well-regarded Malayalam film "Kappela". Despite some changes to the opening sequence, the essence of the original film has been retained. The story is set in the picturesque hill stations of Araku and Vizag, much like the original film.
The film sheds light on the issue of sex trafficking and the exploitation of vulnerable young women by some men. The film explores how traffickers have utilized mobile phones for their nefarious activities. The original screenplay masterfully weaves a powerful narrative around this sensitive and important topic.
The first half of "Butta Bomma" takes place in a rural town where the protagonist and her family face financial difficulties. The protagonist and an auto driver develop a relationship through their mobile conversations. Although this section sets the foundation for the story, it can be slow-paced and drag at times, particularly in the Telugu version, which is slower than the original Malayalam film.
The subplot involving the heroine's best friend and her boyfriend in "Butta Bomma" is cringe-worthy.
"Butta Bomma" shines in its second half when it delves into its central theme and highlights the tension between the three main characters. The film truly comes to life in this part, delivering a powerful and engaging experience.
While "Butta Bomma" stays true to the original and addresses an important social issue, it falls short of the high standards set by the Malayalam film "Kappela". It may appeal to those unfamiliar with the original, but fans of "Kappela" may be disappointed.
Bottom line: Just Bomma