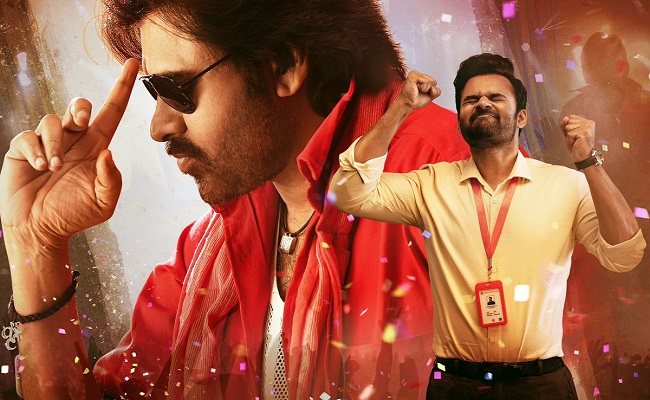 Movie: Bro
Rating: 2/5
Banner: People Media Factory, Zee Studios
Cast: Pawan Kalyan, Sai Dharam Tej, Priya Prakash Varrier, Ketika Sharma, Brahmanandam, Subbaraju, Urvashi Rautela and others
Screenplay and dialogues: Trivikram Srinivas
Music: S Thaman
Director of Photography: Sujith Vaassudev
Editor: Naveen Nooli
Production design: A.S. Prakash
Producer: T G Vishwa Prasad
Directed by: Samuthirakani
Release Date: July 28, 2023
Although there isn't as much hype surrounding it compared to Pawan Kalyan's previous films, "Bro" is certainly one of the most anticipated films of the year. In the film, Pawan Kalyan played a god, and it also starred his nephew, Sai Dharam Tej.
Let's see how this film turned out.
Story:
Mark (Sai Dharam Tej) is the oldest of three siblings, with two sisters and a younger brother. He lives with his mother and sisters, and he is always looking for ways to make money, never giving his time to anyone, not even his girlfriend Ramya (Ketika Sharma). In addition, he is a control freak.
He gets killed in a car accident on his way from Vizag to Hyderabad.
Mark begs Time, also known as Titan (Pawan Kalyan), the god of time, for more time so that he can complete his duties. Titan agrees, but only for the next 90 days.
How will Titan teach Mark the true meaning of life in the next 90 days, and what will Mark do in those 90 days?
Artistes' Performances:
Pawan Kalyan appears throughout the movie. Despite denying being God and referring to himself as Time, Pawan Kalyan's role is intended to be another version of "Gopala Gopala." His style, reminiscent of some of his older films, seems okay at first, but the role becomes more casual after a while. Pawan Kalyan's only activity in the film is walking or sitting and mouthing philosophical dialogues.
Sai Dharam Tej fits the bill. The main road accident in the story resembles his real-life accident. However, his performance is fairly routine, and he appears to be out of shape.
The banter between Pawan Kalyan and Sai Dharam Tej contains moments of laughter, which may appeal more to fans than to the general audience.
Priya Prakash Varrier portrays Sai Dharam Tej's sister. Ketika Sharma's screen time is limited. Vennela Kishore, Prudhvi, as well as Tanikella Bharani play irrelevant roles. Raja Chembolu is okay.
Technical Excellence:
Among the technical departments, cinematography is one that stands out. Sujith Vasudevan's work is especially noticeable in the sequences of Pawan Kalyan's entrance and the final scenes.
Thaman's songs aren't particularly catchy. The dialogues are merely adequate, nothing to write home about.
Highlights:
The message
Drawback:
No strength in the second half
Pawan Kalyan's character design
Lack of strong emotions
Weak songs
Analysis
"Bro" is a remake of the Tamil film "Vinodaya Sitham," which was also directed by Samuthirakani. Simply put, it's the tale of a man who, after dying, is given the opportunity to make amends for his mistakes. The storyline is extremely familiar.
There are two major changes in the Telugu adaptation. In the Tamil version, the protagonist is a middle-aged man with a wife and two daughters. Here, the protagonist is a young man played by Sai Dharam Tej. Another difference is the casting of a major star like Pawan Kalyan in the part of "time." In the Tamil version, Samuthirakani played the role of "time."
Although these two alterations may have held promise on paper, they are not effective on the screen.
The first half of the film moves quickly, establishing Sai Dharam Tej's family and life, as well as the accident and his meeting with time. Time agreeing to give Sai Dharam Tej another 90 days to live, and so on, are narrated with a dose of comedy. Pawan Kalyan recreating some of his popular songs sounded funny at first. However, after the intermission, the film takes a complete 180-degree turn. It becomes too simple to take the proceedings seriously.
The writing's hollowness comes to life in the second half. All of the incidents or sequences are overly predictable. Furthermore, Pawan Kalyan and Sai Dharam Tej's bar conversation and Tanikella Bharani's comedy track look ridiculous. The character of Prudhvi has no significance in the story.
Pawan Kalyan's re-enactment of old songs has also grown tedious at this point. In one scene, Pawan Kalyan simply rolls on top of a vehicle and laughs. Such sequences demonstrate that the team does not have enough material for the runtime.
Though the story's philosophy and message - everything happens for a reason and that we should treat others with kindness and compassion - are admirable, the resolution is too formulaic.
Attempts to make Pawan Kalyan's character more commercial have backfired and hurt the story. The soul of the original movie is gone. This is why the story loses its momentum in the important and final act.
Plus, the soundtrack is not the film's strong suit.
Overall, "Bro" has a promising start, and Pawan Kalyan's early sequences are entertaining, but the film loses steam as it becomes more routine. It also has plastic emotions. There is a lack of strength in the writing, and the important sequences feel rushed.
Bottom Line: Poor Writing