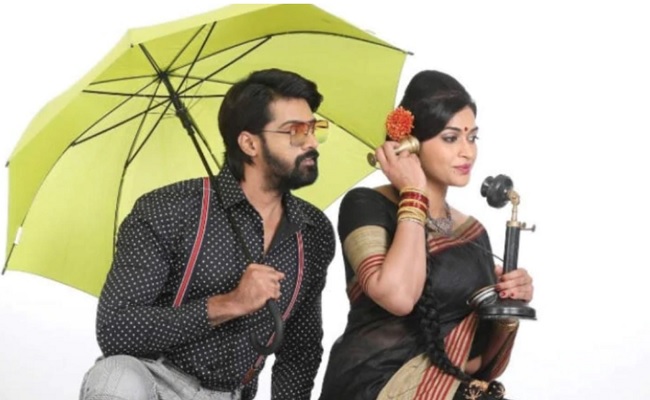 Movie: Bhanumathi and Ramakrishna
Rating: 2.75/5
Cast: Naveen Chandra, Salony Luthra, Raja Chembolu, Harsha Chemudu
Editor: Ravikanth Perepu
Cinematography: Sai Prakash Ummadisingu
Music: Shravan Bharadwaj
Producers: Yashwant Mulukutla
Presented by: Sharrath Marar
Written and directed by: Srikanth Nagothi
Release Date: 03 July 2020
OTT Platform: Aha
The coronavirus and the subsequent lockdown brought OTT platforms to the fore and the streaming apps are releasing new movies every week to attract the subscribers. This weekend, we have a release of a love story named 'Bhanumathi Ramakrishna' on the Aha app.
Let's find out this OTT movie's merits and demerits.
Story:
Bhanumati (Salony Luthra) is 30 and single just had a breakup. The urban, modern and independent girl meets Ramakrishna (Naveen Chandra) who is from Tenali. He joins her office.
The 33-year-old Ramakrishna is no match to her in any manner. They are poles apart. How do they fall for each other?
Artistes' Performances:
Newcomer Salony Luthra is impressive in her debut. She showcases varied emotions perfectly. She doesn't look like a conventional Telugu heroine but fits the role well.
Naveen Chandra who has already proven his acting capabilities plays the role of a small-town guy endearingly. He brings a lot of warmth to the character. Though the film is more about the heroine, but finally he scores more points.
Raja Chembolu as Salony's first boyfriend makes a cameo appearance. Viva Harsha gets a better role after a long time and he nails it.
Technical Excellence:
Cinematography by Sai Prakash is neat. Songs hardly get registered. The background score is uneven.
The film is deliberately paced slow but the runtime is just about 90 minutes (editing is by 'Kshanam' and 'Krishna and His Leela' director Ravikanth Pereup). The production design is neat.
Highlights:
Natural conversations
Matured narration
Drawback:
Lack of strong conflict
Hurried Climax
Analysis
"Worlds apart. But the heart in the same place" is the tagline of this romantic drama, "Bhanumathi & Ramakrishna", that stars Naveen Chandra and newcomer Salony in the titular characters. True, Bhanumathi and Ramakrishna are poles apart.
She's a modern, urban girl. He's a simple, small-town guy with a good nature. She's 30, he's 33. They are quite different from each other. But share certain common things.
Bhanumati's boyfriend left her for a 24-year-old girl. For the first time, Bhanumati realizes that her age is not in her favor for getting married.
On the other hand, Ramakrishna's parents get an alliance for him but the girl rejects the alliance on the grounds that he's too elder to her. In a way, their situations are the same, both are under pressure to get married, or find a life partner.
Bhanumati and Ramakrishna gradually find each other interesting and get attracted to. Love happens over a period of time. This is narrated in a simple and sensible manner.
New director Srikanth takes his own sweet time to establish the base for the romantic part but he makes sure that the film keeps entertaining us with dialogues.
The simple conversations and organic situations score high. Although many dialogues are peppered with English, they are good.
When Bhanumathi goes for a blind date with a guy, her classmate appears with her husband and a kid. This situation reminds how 'old' she is.
In another scene when she is watching 'Kushi' movie, she tells Viva Harsha that she bunked the college to watch the movie in theater at the time of its release and Harsha makes fun of her age. Such simple sequences have not only generated humor but also makes us understand her predicament.
The story doesn't have a major conflict point but the director holds our interest with relatable sequences. Viva Harsha also adds fun to the proceedings.
But, "Bhanumathi & Ramakrishna" has its share of issues as well. Even at 93 minutes of short runtime, it is a bit lengthy and looks stretched.
At most of the places, the setup looks like a short film rather than a feature film. Plus, Bhanumathi falling for Ramakrishna should have been more convincing.
In a nutshell, "Bhanumathi & Ramakrishna" is an urban romantic tale told with a modern approach. A good move to skip the theatrical window, as the OTT platform is what made this film an interesting watch.
Bottom-line: Pattana Prema/Urban Love
Click Here for Latest Direct-to-OTT Releases (List Updates Daily)