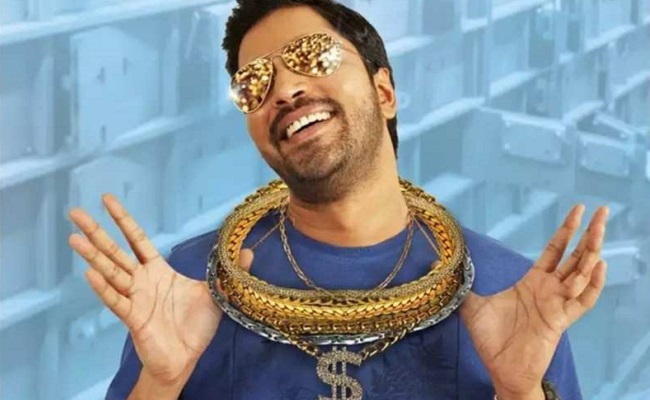 Movie: Bangaru Bullodu
Rating: 2/5
Banner: AK Entertainments
Cast: Allari Naresh, Pooja Jhaveri, Tanikella, Posani, Prithvi, Praveen, Vennela Kishore, and others
Music: Sai Kartheek
Cinematography: Sateesh Mutyala
Editor: MR Varma
Action: Real Satish
Art: N Gandhi
Producer: Sunkara Rambrahmam
Written and Direction: Giri Palika
Release Date: Jan 23, 2020
After a long gap, Allari Naresh has returned to his favorite genre – comedies. His latest film, Bangaru Bullodu, hit the screens.
Let's find out whether this entertainer provides enough laughs.
Story:
To fulfill his grandfather's wish of making jewels for the local deity, Prasad (Allari Naresh) uses the gold ornaments that were mortgaged in his bank.
He expects big money in the next six months. He lists out the people who kept the jewels in their bank and those who have no intention of taking them for another six months.
A local financier Boddu Nagaraju (Posani) is ideal for his plan. Taking the jewelry of Boddu Nagaraju from his locker, Prasad hands it over to his grandfather.
Prasad hopes to buy the same amount of gold in the next six months and make the exact jewelry of Boddu Nagaraju and silently keep them in the locker. However, his plan goes wrong.
The rest of the drama is how Prasad comes out of this mess?
Artistes' Performances:
Allari Naresh must have tired of giving the same old expressions for the clichéd comedy scenes. He has done them before. With puffy eyes, he looks too old to play these kinds of comic roles as well.
Pooja Jhaveri as the village belle is just okay. Praveen, Satyam Rajesh, Prabhas Seenu, Posani, and Brahmam have played the same roles that they have been doing for years.
Vennela Kishore generates some laughs.
Technical Excellence:
The film has poor production values. The technical output is also mediocre. Barring the remix of the "Swathilo Muthyamantha" remix, none of the songs register. Dialogue writing is mediocre.
Highlights:
Vennela Kishore
Drawback:
Outdated narration
Boring comedy
Silly and illogical scenes
Analysis
Ten or fifteen years ago, Allari Naresh's comedy movies were considered as a safe bet. Although they didn't have any great story or engaging narration, they had provided great laughs for the Telugu audiences. But times have changed, the comedy underwent many changes as well.
After the popularity of Jabardasth and other TV comedy programs, Allari Naresh's films have lost relevance.
This is why he scored several flops forcing him to take a long break from such insane comedies.
To reinvent himself as a comedy star, he has come up with this "Bangaru Bullodu". But he has not chosen a contemporary story or idea.
At the beginning of the film, we can notice the photograph of Chandrababu Naidu as the Chief Minister of Andhra Pradesh on the wall of the bank in which Naresh works. This gives an impression that the film is outdated and an old one.
While Naresh has refrained from doing comedy here to give a fresh feel, the comic situations involving him have not brought novelty either. The scenes and dialogues look cliched and similar to that of Naresh's old movies.
The makers also have remixed a song from a 1993 super hit movie. This is another proof that the makers have borrowed ideas from the bygone era.
"Bangaru Bullodu" is one of the badly made comedies in recent times. The comedy is all fake and forced.
Bottom-line: Lousy and Outdated