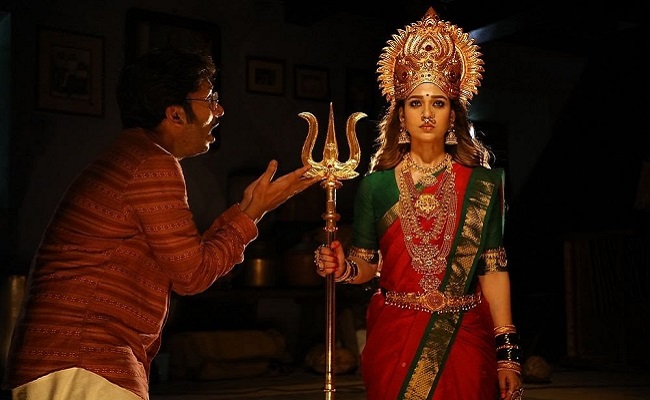 Movie: Ammoru Thalli (Dub)
Rating: 2.75/5
Banner: Vels Film International
Cast: Nayanthara, RJ Balaji, Urvashi, Ajay Ghosh, and others
Music: Girish G
Cinematography: Dinesh Krishnan
Editor: RK Selva
Directed by: RJ Balaji and NJ Saravanan
Release date: November 14, 2020
Streaming on: Disney+Hotstar
This Deepavali has witnessed the release of OTT companies offering a couple of direct releases with big stars featuring in them. After Suriya's "Aaaksam Nee Haddhura", here comes Nayanathara's "Ammoru Thalli".
Let's check its merits and demerits…
Story:
Engels Ramasamy (RJ Balaji), a small-time reporter in the Uttarandhra region, has been working on a story for many years, which he believes brings him recognition at the state level.
He tries to expose Bhagavathi Baba (Ajay Ghosh), the godmen who is hatching a plan to grab 11,000 acres of forest and temple lands for his ashram. Ramaswamy also has many domestic problems to deal with.
One day, Mukkupadaka Ammavaru (Nayanthara), his family deity, appears to him before. The story and his life take a different turn from then.
Artistes' Performances:
After playing Goddess Sita in "Sri Ramarajyam" a decade ago, Nayanthara returns to the mythological roles. She has played Goddes again. Her splendid regal look has made the character believable.
RJ Balaji's innocent appearance is a perfect choice as the protagonist.
Urvashi as Balaji's mother also helped the film with her funny act. Ajay Ghosh's character looks like a caricature.
Technical Excellence:
Cinematography and visuals are rich despite the budget constraints. The VFX work is decent. Except for one song, the music is forgettable.
Highlights:
Core plot point
Nayanthara as Goddess
Political satires
Drawback:
Inspired moments in the second half
Godmen scenes are formulaic
Climax
Analysis
"Ammoru Thalli" (the dubbed version of Tamil movie "Mookuthi Amman") is a satire on religious business, and falls in the genre of "OMG" and "PK".
There is a dialogue in the film: "In the name of religion, they want to divide us. Such politics have not yet gained traction in the Telugu states. So, these godmen help create to achieve their mission". A direct attack on BJP-style politics.
The main antagonist is Bhagavathi Baba, a character that reminds us of godmen like Jaggi Vasudev and Swamy Nithyananda. There are even in-direct dialogues referencing them.
"Ammoru Thalli" doesn't shy away from exposing godmen. Aamir Khan's "PK" influence can be seen throughout the film.
RJ Balaji has also used comedy to tell this story. But unlike "PK", it misses the bus after a point, goes on clichéd sequences. Sometimes it goes to the extent of being a spoof. The interview scene between Ajay Ghosh and RJ Balaji looks illogical.
Staring as a serious satire on religious politics, it turns into a comedy. These tonal changes have stopped being it a good movie. However, some comedy scenes have really worked out. The message of the film is topical and timely.
All in all, "Ammoru Thalli" is a satirical film with a relevant message for today's times. However, the film falls short of being a taut drama and doesn't come together as a whole
Bottom-line: Satire on Fake Godmen
Click Here for Latest Direct-to-OTT Releases (List Updates Daily)