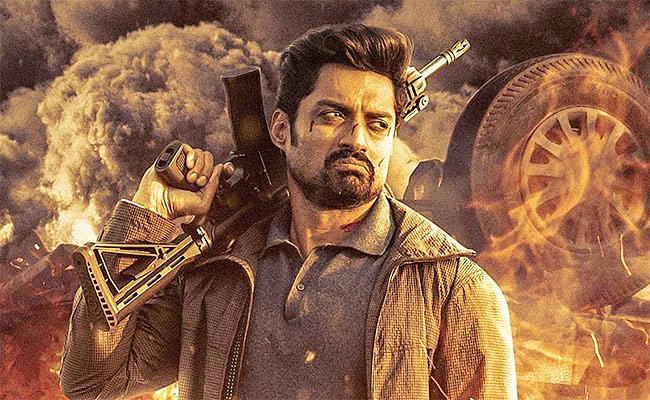 Movie: Amigos
Rating: 2.25/5
Banner: Mythri Movie Makers
Cast: Kalyan Ram, Ashika Ranganath, Saptagiri, Brahmaji and others
Music: Ghibran
Cinematographer: Sounder Rajan
Editing: Tammiraju
Art: Avinash Kolla
Producers: Naveen Yerneni and Y Ravi Shankar
Written and Directed by: Rajendra Reddy
Release Date: Feb 10, 2023
In the wake of Bimbisara's massive success, Kalyan Ram's movies became all the rage. The trailer for "Amigos" has piqued interest thanks to the intriguing premise of a doppelganger.
Let's find out its merits and demerits.
Story
Siddharth (played by Kalyan Ram) is immediately smitten with Ishika (played by Ashika Ranganath), a radio host. After Siddharth's family contacts Ishika's family, a "pelli choopulu" (meeting of the families) is arranged. Despite this, Ishika turns down Siddharth's proposal because she would only consider marrying a man if he passes a test she created.
Meanwhile, Siddharth learns of a website that tracks down doppelgangers and, after searching for his own lookalike, he discovers not one, but two people who are strikingly similar to him: Michael from Kolkata and Manjunath from Bengaluru. In an effort to pass Ishika's test, Siddharth approaches them for help.
However, Siddharth does not realize until later that Michael is impersonating him. This raises the question: why is Michael posing as Siddharth? What is his sinister plan?
Artistes' Performances:
In his last film, Bimbisara, Kalyan Ram played two distinct roles. He goes one step further and gets to play three different characters here. There isn't much to say about his two positive roles, Siddharth and Manjunath, but he shines as the negative character Michael. Throughout the film, we only see Kalyan Ram, and he carries the film.
Ashika Ranganath's Telugu debut is adequate.
Brahmaji as Kalyan Ram's uncle provides some laughs. JP as Kalyan Ram's father gets some scenes worth noting.
Technical Excellence:
The cinematography is impressive. There are two songs, one is the remix of "Enno Ratrulostayigani". Background score is very bad.
Highlights:
The concept of three lookalikes
Drawback:
Flat narration
Lack of high moments
Second half
Analysis
Regardless of the outcome of his efforts, Nandamuri Kalyan Ram never stops trying to surprise and delight his fans. Last year, his attempt to play an evil king in the time-travel thriller "Bimbisara" was a massive success. This time, he utilized the doppelganger concept to play three different characters.
The concept of "lookalikes" has existed for a while, and the Telugu film industry has been attempting to tell such stories since at least the days when Kalyan Ram's grandfather played a dual role in "Ramudu Bheemudu." However, the new director, Rajendra Reddy, brings a fresh take to this by incorporating the use of the Internet to find one's doppelganger.
The premise of the film appears promising. Despite the hero playing three similar roles, the screenplay is clear, and the director has been successful in explaining the concept of doppelgangers meeting through a website in the first half of the film, which is primarily devoted to the main character's love story.
However, the film lacks thrilling moments. The main plot twist appears in the second half of the film, but it fails to generate any excitement. The proceedings are not engaging. When the story reaches its main point, it becomes even more apparent that there are many logical problems. This is another Telugu film that portrays NIA officers as a group of buffoons.
With the exception of Michael, Kalyan Ram did not put much effort into portraying the other two characters, and they are also dull. The film feels repetitive as Kalyan Ram appears as one or more characters 90% of the time.
Overall, the film has only an intriguing premise going for it, but it offers nothing more. The narration is mostly dull and the film drags on for too long.
Bottom line: Not Exciting