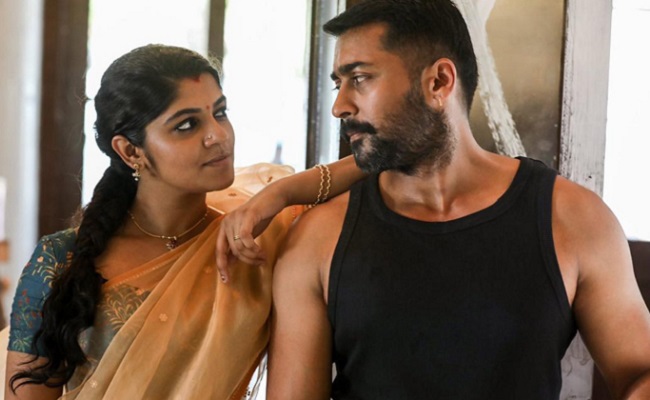 Movie: Aakasham Nee Haddhu Ra
Rating: 3/5
Banner: 2D Entertainment
Cast: Suriya, Aparna Balamurali, Mohan Babu, Paresh Rawal, Urvashi, Karunas, Vivek Prasanna, Krishna Kumar, Kaali Venkat and others
Music: GV Prakash Kumar
Dialogues: Rakendu Mouli
Cinematography: Niketh Bommi
Editor: Sathish Suriya
Producer: Suriya
Written and directed by Sudha Kongara
Release date: Nov 12, 2020
Streaming on: Amazon Prime
The combination of Suriya and director Sudha Kongara ("Guru") has garnered attention since the announcement.
The teaser and trailers "Aakaasam Nee Haddhu Ra" have further heightened the excitement. This being the first direct OTT release of a leading star from the South Indian movie industry, the buzz has been great.
Let's find out whether the film lives up to all the hype.
Story:
Chandra Mahesh (Suriya), son of a school teacher, hails from a village near Tsundur in Guntur. He dreams of launching a low-cost airline. There is a solid reason why he is obsessed with this idea, although he has the financial capabilities to operate an airline. The idea is his capital. The idea is to make everyone fly in India for Rs 1.
But Paresh Goswami (Paresh Rawal), the leader in the industry, feels a threat, and he makes sure to create enough hurdles for Chandra Mahesh's airline to take-off.
How will Chandra Mahesh, who even borrows Rs 15 thousand from his wife Baby (Aparna Balamurali) to register the company, achieve his dream?
Artistes' Performances:
Suriya breathes life into the character of Chandra Mahesh. After a long time, Suriya has played a role with so much conviction and emotion. This is one of his best performances. His performances in scenes like begging in the airport to buy a ticket prove that he is one of the best actors we have around. Satyadev has dubbed Suriya's voice, which suits well, but it takes a while to adjust to his voice.
Aparna Balamurali doesn't have conventional glam looks, but she fits well in the role of Suriya's wife. She steals Suriya's thunder in a couple of sequences.
Mohan Babu as an Airforce officer gets limited screen space.
Paresh Rawal appears as a crooked businessman and delivers a neat performance. Urvashi as a mother is another act that is the best.
Technical Excellence:
The cinematography is top-notch. The sequences of aviation businesses are shot with finesse. CG work is fine.
The songs of GV Prakash Kumar don't register much but his background score is perfect. The production design is first class. Editing should have been sharper. The film is lengthy.
Highlights:
Suriya's brilliant performance
Background Score
Emotional scenes
Climax
Drawback:
One dimensional villain
Repetitive hurdles in the second half
Analysis
Suriya's recent releases were huge disappointments. Amidst the criticism that he is selecting lousy scripts, the 'Ghajini' actor has joined hands with Sudha Kongara, who is known for blending art and commercial elements well, as was proven in her films with Venkatesh and Madhavan.
"Aakasam Nee Haddhu Raa" is based on the book, "Simply Fly", which is all about the life of Gopinath, the aviator, and entrepreneur. But the name of the protagonist, the characters, the story is altered, and fictionalized for the cinematic experience. Gopinath becomes Chandra Mahesh in this film.
The basic plot is about the birth of Air Deccan and the story of low-cost aviation but it is not the biopic of Captain Gopinath. The film has a classic structure of a hero who goes all out in pursuit of his dream.
The film begins with Air Deccan's first flying test and a mishap, which sets the tone of the movie right. Then it focuses on Chandra Mahesh's background, his air force days, and his love story with Baby. The story peels off slowly to provide the real juice. Pre-climax sequences are handled so beautifully by the director. The film's main emotional core lies in the interval bang.
All biopic dramas have boundaries that cannot be crossed. This is no exception. The film's graph goes down after the interval.
The second half, in a way, is flat as it mostly deals with the hardships of the hero. Hence, the troubles keep getting repetitive. Also, the film takes too many cinematic liberties to make Paresh Rawal the villain. Some liberties are hard to believe.
Example: Suriya doesn't have 15 thousand rupees, but is confident enough to pool Rs 4 crore to launch the airlines business. An entire village transferring their savings to his bank account is a bit over the top.
But director Sudha Kongara ensures a smooth landing in the end, with an emotional climax.
Despite a few shortcomings, "Aakaasam Nee Haddhu Ra" is the better film among his recent movies. Also, this is a tough subject (aviation business) to narrate. However, director Sudha Kongara has succeeded.
All in all, "Aakaasam Nee Haddhu Ra" is a tale of an inspiring person 'Air Deccan' Gopinath with a terrific performance from Suriya.
Bottom-line: Dream Big
Click Here for Latest Direct-to-OTT Releases (List Updates Daily)