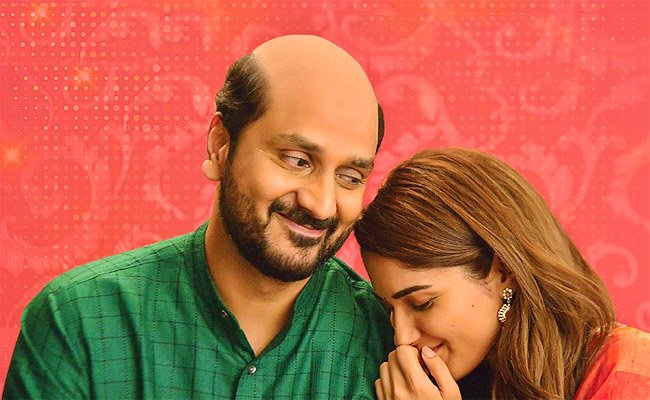 Movie: 101 Jillala Andagadu
Rating: 2/5
Banner: First Frame Entertainments
Cast: Avasarala Srinivas, Ruhani Sharma, and others
Writer: Avasarala Srinivas
Cinematography: Raam
Music: Shakthi Kanth Karthick
Editor: Kiran Ganti
Producers: Shirish, Rajeev Reddy Yeduguru, Sai babu Jagarlamudi
Direction: Rachakonda Vidyasagar
Release Date: Sep 03, 2021
Actor Avasarala Srinivas is back. After a gap, he has played as a lead hero, and the film hit the screens today.
Let's find out its merits and demerits.
Story:
Gotti Surya Naryana aka GSN (Avasarala Srinivas) works in a senior position in a real estate firm called Bhumi Infra. He has low self-confidence as he inherited baldness from his father. He uses a wig.
Anjali (Ruhani Sharma) joins in his office, and they develop a friendship quickly and soon fall in love. GSN hides his problem from Anjali and meets their parents. They agree to their marriage. But one day, Anjali catches him without his wig and finds that he's a lair.
Artistes' Performances:
Avasarala Srinivas and Ruhani deliver fine performances, Avasarala as a bald guy is convincing for the most part. But his comedy dialogues should have been sharper and wittier. Rohini as his mother leaves her mark in the moments she appears.
Technical Excellence:
The film's cinematography is decent. But it has a feel of a low-budget movie with limited locations and usage of frequent stock shots. Music hardly makes any impression.
Highlights:
Concept
Drawback:
Inconsistent narration
Second half
Lack of high moments
Analysis
It is one thing to pick an interesting point but to narrate engaging is quite another art. "101 Jillala Andagaadu" does have a rather smart concept for a Telugu movie.
Hindi films like "Bala" and "Ujda Chaman" have dealt with the topic of male baldness humorously. "101 Jillala Andagadu" is more or less on the lines of "Bala."
"101 Jillala Andagadu" also begins funnily, evokes good laughs. Writer Avasarala and director Vidyasagar have interestingly begun the story. The protagonist's problems and his love story with his colleague provide enough humor.
The introduction of the heroine as a North Indian girl, and the hero and his friend talking about her in Telugu assuming that she doesn't know the Telugu language has set for a good drama. For a while, it entertainers well.
But as the protagonist suffers from a thin hairline, the film also struggles with the issue of a thin plot. Although the idea is interesting, the thin story doesn't have enough thickness to cover the two-hour runtime.
Once the conflict unfolds at the interval point, both the screenplay writer and director have lost the plot. They have struggled to hold the drama by repeating the same scenes.
It becomes irritating after a point watching Avasarala doing a shower in the bathroom. The stock sequences show the limitations of narrative skills.
A lot of hype is created for the introduction of Sattipandu, the hero's friend from Kakinada. But when Sattipandu enters the scene, the drama turns bland.
The lengthy hotel sequence mars the proceedings. The film also ends on expected lines, with the hero preaching on a stage that beauty does not guarantee happiness but being content is the beauty (andame aanadam kaadu, anandame andam).
Sharper, better writing in the second half would have made an interesting film.
On the whole, "101 Jillala Andagadu" would have made a better watch on OTT than in the cinema theater. To sum it up, we borrowing Avasarala's Hindi lines from the film -" Konchem Achha Hai, Migatadi bahut Bharam Hai'.
Bottom line: Less Humor
Click Here for Latest Direct-to-OTT Releases (List Updates Daily)