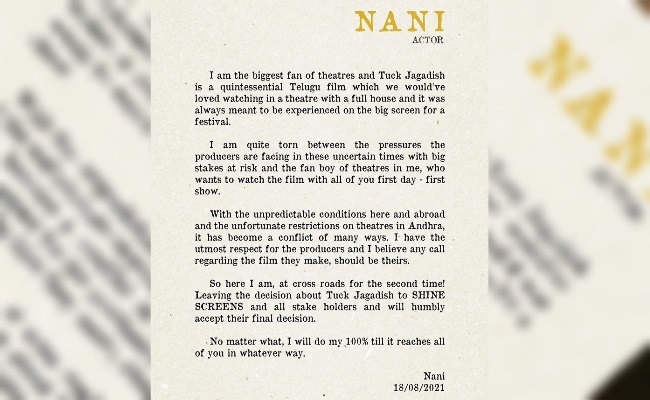 Natural Star Nani has finally opened up about the OTT Release of his Tuck Jagadish.
He pens an open letter to fans revealing his situation where he is torn between the pressures the producers are facing and the fanboy of theaters in him, who wants to watch the films FDFS with the audience.
"I have the utmost respect for the producers and I believe any call regarding the film they make, should be theirs. So here I am, at crossroads for the second time!" he says.
The actor has said he is leaving the decision about Tuck Jagadish to Shine Screens and other stakeholders while humbly accepting their decision.
He also assured his 100% in ensuring the film reaches the audience. That said, we will very soon see the official announcement from the producers and Amazon Prime Video regarding the release date.
Though upset, Nani should be appreciated for keeping producer's interest above everything and allowing the OTT release.