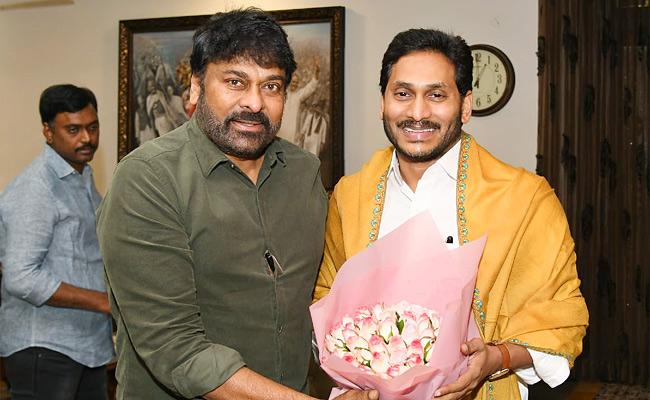 The meeting of megastar Chiranjeevi with YSR Congress party president and Andhra Pradesh chief minister Y S Jagan Mohan Reddy at the latter's Tadepalli residence on Thursday afternoon was not totally unexpected, but the timing came in as rather surprising.
There were reports couple of weeks ago that the Telugu film industry people had requested Chiranjeevi to take the initiative in resolving the dispute with the Jagan government over cinema tickets pricing and other issues related to the industry.
It was learnt Chirajeevi had a talk with state cinematography minister Perni Venkatramaiah alias Nani in this regard but there was no follow-up after that.
The megastar meanwhile declared that he was not interesting in taking up the role of an elder to the film industry.
In the meantime, the Jagan government appointed an official committee to discuss the issue of fixing of cinema ticket prices, following a high court order.
Even as the committee is on the job, holding discussion with various stakeholders, the war of words between the Tollywood and the YSRC government and the party leaders intensified, making the issue more and more complex.
At this stage, the sudden news about Chiranjeevi flying down to Vijayawada to hold discussion with Jagan on Thursday came as a big surprise to the film and political circles.
Enquiries revealed that the meeting of Chiranjeevi with Jagan was not finalised at a short notice but was decided much earlier. But it was kept a total secret and except a few like producer Niranjan Reddy, even the most influential people in the Tollywood are not aware of such a meeting between megastar and Jagan.
Even senior officials in the chief minister's office were not aware of the meeting as it was included in the CM's schedule only at the eleventh hour, though it was decided long ago.
Apparently, both Chiranjeevi did not want it to be made public, as there are always people in the film industry as well as the bureaucracy who can put spokes in the meeting.
Seniors in the film industry like Mohan Babu do not want Chiranjeevi to take the lead on behalf of the Tollywood.
He has already written an open letter questioning the domination of a couple of heroes, directors and producers in the film industry and their involvement in lobbying with the Jagan government.
Since Mohan Babu is closer to Jagan's family, there is every possibility that he would scuttle the possibilities of Chiranjeevi's meeting with the chief minister. Hence, it was kept a secret till the last moment, sources said.