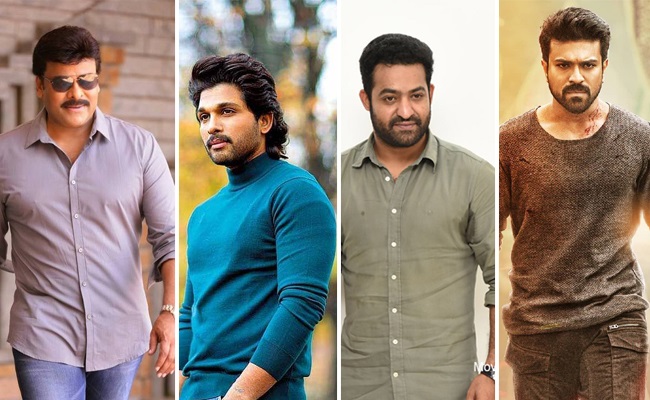 Visakhapatnam is a place that is very close to many in the Telugu states.
The reason is the city is very peaceful, beautiful and unique tourist attraction due to its geographical location in the middle of hills on the coastline of Bay of Bengal.
Many Tollywood celebrities have properties in Vizag too. Umpteen number of film shoots take place in this region.
Now, waking up to the bad news from Vizag, entire Tollywood in in grief mode. The shocking visuals on TV channels are making many disturbed.
Mega Star Chiranjeevi tweeted, "I am disturbed to know the people in Vizag died due to Styrene gas leak. My deepest condolences to the families. I pray those who are affected should get well soon. Request all the concerned authorities to take utmost care while opening industries post lockdown".
Jr NTR shared, "Vizag gas leak news has disturbed me badly. My deepest condolences to the affected families. Stay strong Vizag".
Allu Arjun shared, "It's really heart breaking to see Vizag which one of the most special places in my life in such a state. I am deeply saddened by this horrific accident. Condolences to families who have lost their lives and hoping for a speedy recovery for the rest".
Nani expressed, "This is heartbreaking .. it's just getting more and more worse .. helpless and all we are left to do is pray"
Mahesh Babu tweeted, "Heart wrenching to hear the news of #VizagGasLeak, more so during these challenging times... Heartfelt condolences and strength to the bereaved families in this hour of need. Wishing a speedy recovery to those affected. My prayers for you... Stay safe VIZAG"
Director Maruthi wrote, "#Vizag is one of my fav place. The visuals of the #VizagGasLeak are extremely disturbing! It is so disheartening to see these many people fall victim to this tragedy... Prayers go out to all those affected. Please follow safety measures and stay safe".
Varun Tej posted, "Yet another tragedy has hit us. It pains me to see the pictures from the incident. My heartfelt condolences to the families who have lost their loved ones..Request all industries to be more careful while re-opening".
Kalyan Ram tweeted, "Extremely saddened to see the visuals coming from Vizag. My sincere condolences to the affected families"
Allu Sirish tweeted, "Heart breaking to know about the #VizagGasLeak. My condolences to those families who have lost lives and my sincere prayers for the speedy recovery of those affected"
Many tweets are also gushing out from different crafts of film industry. Actresses, directors and writers are also expressing their grief online.