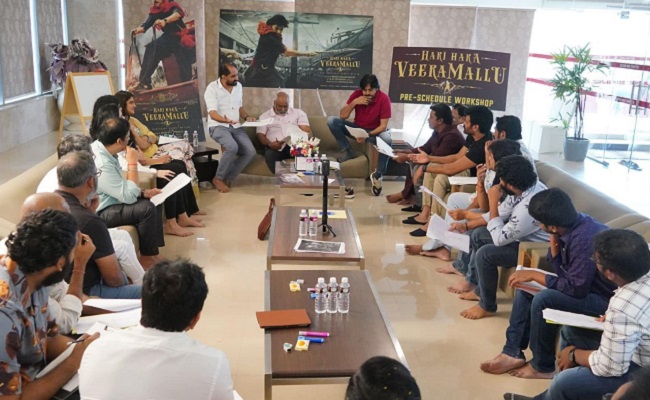 MM Keeravani is the senior technician in the film industry. He deserves respect from the young ones.
Pawan Kalyan is an actor cum politician and younger than Keeravani. But look at the way he was sitting by resting one of his feet on the sofa on which Keeravani was sitting.
In addition to this he was the only one with footwear in the room. The director Krish, actors Sunil, Subbaraju and other all crew members were sitting barefoot.
"Until and unless Pawan Kalyan feels that he is a God and all the devotees should visit him barefoot, this kind of scene is not possible. Otherwise, all these people including Krish must be feeling that they are 'Kattubanisas to Simhasanam' (slaves of the throne). This kind of worship between four walls is making Pawan Kalyan think too much about himself, forgetting that is a normal human being" says a social media post with this picture.
"Chiranjeevi never behaves like this. Pawan Kalyan might have learned that modesty and respecting demeanor from his eldest brother" says another post.
Well, Pawan might not have any intention or reason to insult Keeravani in the first place. But when the pictures go public, anybody can give his interpretation.
So the public figures like Pawan Kalyan should be careful with their body language. Otherwise, they send wrong message get trolled.