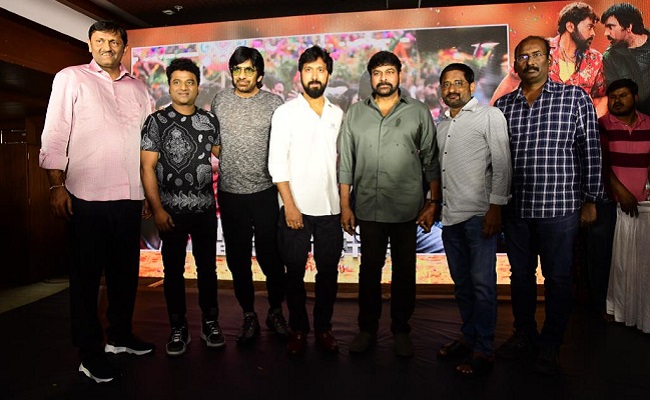 Mega Mass Blockbuster Meet of Chiranjeevi and Ravi Teja's Waltair Veerayya happened just a while ago with the entire team attending it.
Music director Devi Sri Prasad said he sensed a blockbuster when Bobby narrated the story. "I gave Veerayya tune, the day when Bobby told the story."
Producers predicted Waltair Veerayya is going to be biggest blockbuster in Chiranjeevi's career. They thanked the governments of the Telugu states for their support.
"We also thank Ravi Teja who accepted to do the movie and Waltair Veerayya went level with his entry into the project."
Bobby revealed that it was Sukumar who gave first feedback on the movie, after its release.
"I felt proud when fans thanked me for showing vintage Chiranjeevi. In fact, Chiranjeevi garu gave me full freedom. He didn't say anything when we removed a 2.5 minutes episode. I've seen for the first time audience clapping for emotional scenes on Chiranjeevi and Ravi Teja. The magic happened because both treat each other like their own brothers. I confess that I didn't try anything new. I just reminded the megastar we loved for ages. Ravi Teja never asked to show rushes and that's the confidence he had in me. Both are self-made stars."
Ravi Teja said Devi Sri Prasad's music took the movie to another level.
"I knew this is going to be a blockbuster. That's why I congratulated the team in advance during press meet. Sankranthi belongs to our producers. Bobby, I'm very happy for you. Big congratulations. This movie will have a long run. Annayya, I'm very happy. This experience is different from our previous movies together. Let's do a full-length entertaining movie together. I love you Annayya."
Chiranjeevi also accepted the proposal and expressed his wish to do a multi-starrer with Ravi Teja. Curiously, Chiranjeevi released a BTS video shot and made by himself to show the hard work put in by the team.
"I want everyone to know about the hard work of the team. We need to thank them. I heard the story along with my family members. All of them enjoyed and also appreciated Bobby. But I took him to my room and told him that it was an average one and needed to work more on it. But later on, Bobby put in his best efforts and went on developing the story. He gave respect to my 44 years of experience and took the suggestions positively.
Waltair Veerayya is a case study for young filmmakers. I strongly opine that we shouldn't waste the money of producers and the time of actors. We hardly chopped 7.5 to 10 mins of episodes. Rather than opting for the latest technology, we should make the audience convinced by the content. I didn't mean to project anybody negatively. Directors need to protect producers.
This movie wouldn't have happened if Ravi Teja hasn't done it. I didn't use glycerine for emotional scenes, because he's like my own brother."
Chiranjeevi and team felicitated lyricist Chandrabose on winning Golden Glove Award for Naatu Naatu song.