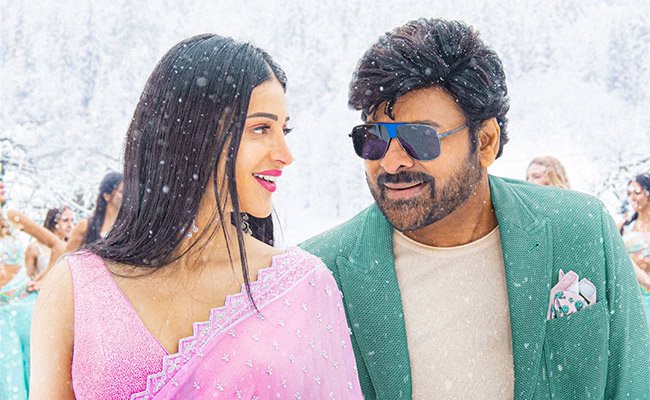 1. Waltair Veerayya: The movie released with packed theaters during the Sankranthi. Both Chiranjeevi and Ravi Teja's supporters flocked to see the movie, and word quickly spread that the film featured humorous scenes with a vintage Chiranjeevi performance. As a result, families began filling up the cinemas.
The revenue generated over the extended weekend was impressive and the film was at the top of the box office charts. Audiences in India and abroad have given the film the highest praise of the season.
The movie emerged as the Sankranthi champion and continues to draw full houses in many locations. It's nearing the milestone of 200 Cr in box office earnings.
2. Veera Simha Reddy: This film starring Balakrishna was met with a great deal of excitement from fans. The film had a strong opening, but soon saw a decline in attendance starting on the second day.
The heavy use of violence and lack of comedic relief in the plot limited the film's appeal to a specific audience. The revenue generated over the weekend dropped consistently. However, it is still among the top performers of the season sitting in second position.
3. Vaarasudu: The film received a tepid reaction in all of its showings. Despite being directed by a Telugu filmmaker and produced by a well-known Telugu producer, audiences perceived the film as a dubbed version due to the lead actor.
The story, which focuses on a wealthy business family, primarily appealed to viewers who enjoy opulence on screen.
Vijay attempted to compete with popular Telugu actors Chiranjeevi and Balakrishna, but ultimately fell short and landed in third place in the box office rankings. The film's earnings have dropped significantly everywhere.
4. Avatar-The Way Of Water: The film performed exceptionally well since its launch. The film attracted a large audience from multiplexes and the holiday season contributed to its success.
James Cameron's film has so far grossed 2.024 billion dollars worldwide, surpassing the 2 billion dollar threshold for profitability.
At present the shows are reduced and looks like its full run is almost at the fag end at Indian box office.
5. Tegimpu: The film was deemed a complete failure from its opening day. The heavy focus on action and drama set in a single location did not resonate with most audiences.
The film's attempt to emulate past Hollywood productions failed to connect with the local audience. As a result, Ajith's film was a flop during the Pongal season at the Telugu box office. The full run of this film at theatres is almost finished.