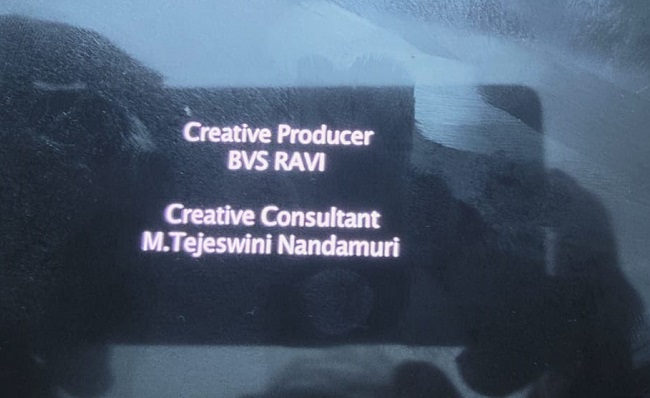 The ongoing reality show – Unstoppable with NBK – being telecast in the popular Over-The-Top (OTT) platform "aha" has, no doubt, been getting good response from the viewers.
Senior actor and Telugu Desam Party MLA from Hindupur Nandamuri Balakrishna has been interacting with various celebrities from Telugu film industry in his imitable style.
The brand Nandamuri always sells on the screen – whether it is big or small. Naturally, the producers of this reality show have also been capitalising the name Nandamuri to attract the audiences.
In fact, Balakrishna's younger daughter Tejaswini has been projected as "creative consultant" for this "Unstoppable with NBK" show.
Not many people know about Tejaswini, except that she is the wife of M Bharat, grandson of former MP M V V S Murthy and chairman of GITAM group of institutions.
After marriage, Tejaswini has been carrying the surname of her husband and hence, known as M Tejaswini. But if she has to get the recognition as "creative consultant" for a reality show, the surname doesn't fetch any recognition.
So, she has used her name as M Tejaswini Nandamuri, while claiming the creative consultant position. This looks not only odd, but also silly, as she is expected to carry either the surname "M" or the "Nandamuri" tag, but not both.
We have seen women carrying their original surname of the parents even after the marriage or the surname of their in-laws, but never do we come across married women taking the surname of both the sides.
In fact, Balakrishna's elder daughter Brahmani has shunned the surname "Nandamuri" after marriage and is known in her academic and business circles only as Nara Brahmani. And that is a dignified way of respecting the in-laws' family.
Well, if anyone argues that there is nothing wrong in carrying both the surnames, there is no counter-argument. But it is very apparent that Tejaswini has chosen to carry Nandamuri tag only for the brand image.