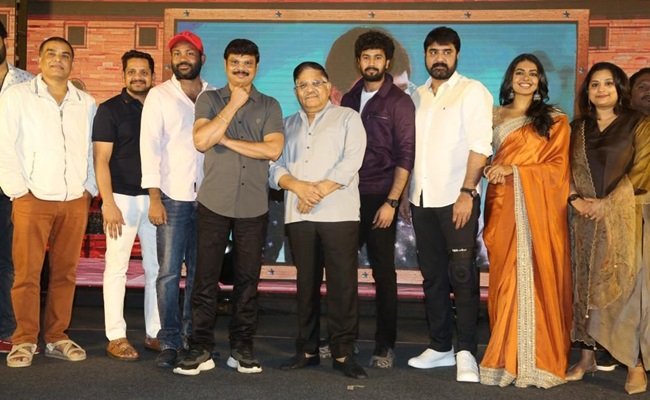 Kota Bommali PS, the director behind the critically acclaimed political drama "Johaar" and the action thriller "Arjuna Phalguna," is making headlines with innovative promotional strategies as his latest film is set to release on November 24th.
On Monday, a grand pre-release ceremony for the film took place in Hyderabad, named 'Kota Bommali PS Prachara Sabha.' The event, in addition to emphasizing the theme of voting, featured innovative interactions where the team and guests posed questions to the media.
Following this, the film's team highlighted the features of the movie, and the attending guests extended their best wishes. Mega producer Allu Aravind expressed gratitude to the guests, including director Boyapati Sreenu, Sai Rajesh, SKN, and wished the entire team success. The film's primary aim is to narrate a unique story that hasn't been told before.
"Police chasing police? That's our story. There are no heroes in this because the story is our hero."
The film boasts a strong ensemble cast including Srikanth, Varalaxmi Sarathkumar, Rahul Vijay, Shivani Rajasekhar, Murali Sharma, and many others. While overseeing story selection and the editing process, the director assured that other aspects would be handled by Bunny Vass, Vidya, Bhanu, and Riaz.
Highlighting the film's significant message, the team sees this release as an opportunity to convey it during this election time.
Director Boyapati Sreenu commented on the popularity of the song 'Lingidi Lingidi,' expressing that its positive reception indicates the movie's success. He wished every actor in the film well and anticipated a victory on November 24th.
Ace producer Dil Raju praised "Kota Bommali PS" as a commercial film with a strong concept. He shared that his son, aged 16 months, listens to the song 'Lingi Lingi' at least twice a day, creating anticipation and excitement for the film's release. Dil Raju expressed sincere wishes for the movie's success, extending best regards to the entire team.