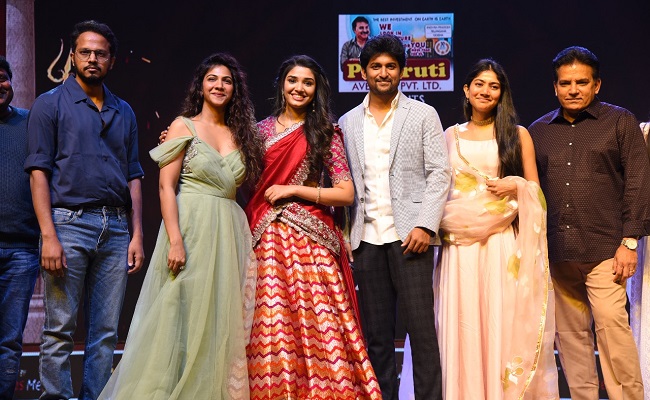 Nani's Shyam Singha Roy pre-release event held today in Hyderabad with few special guests attending it. The event became a big hit with huge turnout for the same.
Venu Sreeram said producer Venkat Boyanapalli was the first to give advance to him after the release of MCA. He stated Rahul Sankrityan handled to Nanis in the movie. "You are going to see new Nani from now onwards."
Producer Venkat Boyanapalli thanked all the technical team, particularly the lighting boys, set assistants and daily wage workers who worked during covid time.
Rahul Sankrityan said, "One great film gives an energy of making 1000 new movies. Either we can entertain audience or we can make a Baahubali. I salute all the filmmakers who make efforts to transform audience to another world. Shyam Singha Roy is one such attempt. When Satya came with the storyline, what really excited me was the story is set in Bengal backdrop.
AR Rahman was the original choice for the film. But, due to his unavailability, Mickey came on board. Without Venkat, we wouldn't have made this movie. This is very special film for me because Sirivennela penned two songs for it.
Madonna is one of the sweetest persons I've ever met. Krithi Shetty did an amazing job. We didn't have other option for the role played by Sai Pallavi, not just for dance. She's one of the finest actors in India. You will see the magic in theatres. Nani believed the subject more than anyone else. He can do any kinds of films, for his potentiality."
Madonna Sebastian said, "It's a great experience to work with the team. They are good people. It's a good story. I wish you'll all enjoy it."
Krithi Shetty said, "Lovely is a small word to describe the adoration of audience. Whatever I do for them will be very less. As an actor, I faced lots of challenges for this movie. The thought of giving new feel is exciting me. Thanks Nani, for all the support. You'll become Fidaa to Sai Pallavi's character."
Sai Pallavi turned emotional and she moved to tears. She said, "Not many get opportunities to prove themselves. I dodn't know and I didn't even remember the much efforts I put in for my films, but I enjoyed working for films. I thank all my directors for giving me opportunities. I thought I would cry, only when I win an award."
Nani said, "Sirivennela song has become a soul for the movie. My wife bought 10 blazers for me. But I don't know when to wear. I didn't have the dare to wear them. I felt I'm eligible enough to wear a blazer, after doing a film like Shyam Singha Roy. The reason behind our confidence and happiness, you'll witness it in another five days. You'll have the satisfaction.
There are many heroes worked behind the camera. Sanu and Mickey's work is impeccable. You'll know why Pallavi became so emotional, when you watch the movie in theatres. There's a big surprise from Rahul's side. I can't tell more than that. Madonna's role is very complicated. No heroine would accept it. She will earn good name for the movie."