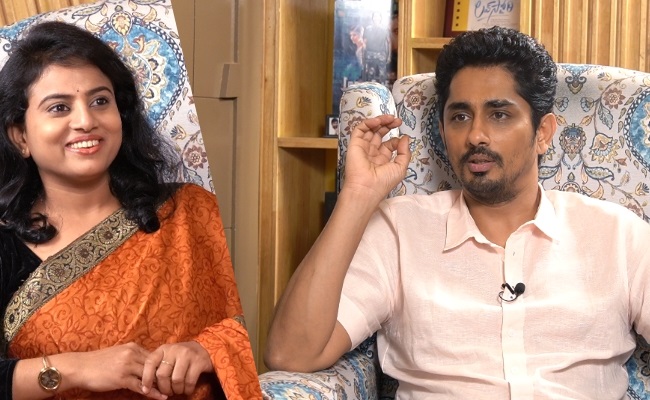 Hero Siddharth is hoping for strong comeback in Telugu with Maha Samudram.
The actor in his exclusive interview with greatandhra says he felt the same excitement of listening to he script when he watched the movie.
"If you ask me or Sharwa, who's the hero. We will say script is the hero of Maha Samudram. Every character in the film is important and impactful. When I heard story 2 and half years ago, I felt very excited. I felt the same excitement when I watched the movie."
Sid informs, he watched RX 100 movie, before Ajay approached him to narrate the story.
"Making a blockbuster with the film on such small-scale budget is a big thing. Only directors with huge confidence can do. Ajay has such confidence."
The actor informs Maha Samudram is a big open drama.
"Se in ocean backdrop, the story revolves around 5 to 6 characters. Every character has its own significance. It's a very different film for the audience also. Nobody understands or come to an opinion on characters of the movie, due to wonderfully cut trailer. Second wave of trailer is coming. It's much more intriguing."
Both Siddharth and Sharwanand appeared in different looks in the film.
"Ajay Bhupathi presented a new Siddharth in Maha Samudram. My role is different from my previous movies. It indeed will be the best performance for both of us in our respective careers so far."
Siddharth is a multi-talented guy whose one of dreams is to direct films.
"Direction is not my only dream. It is one of my goals. In my 25 years of careers, I've been doing films as hero for 18 years. I'm very happy for what I'm doing. The problem is I have to stop everything, if I take up direction."
The Bommarillu actor has also lined up numerous projects under his own production house with an intention of giving chance to young and talented people.
Sid has done many multi-starrers.
"I feel comfortable doing multi-starrers. I only care about my character. I and Sharwa didn't discuss about the script, as we have full clarity about the script and Ajay too didn't make even single change. Maha Samudram will become a trendsetting film."
He affirms he doesn't have a dream project or dream role.
"I feel all my dreams are full-filled already."
Siddharth who shares his strengths and weaknesses says there's lots of negativity in social media.