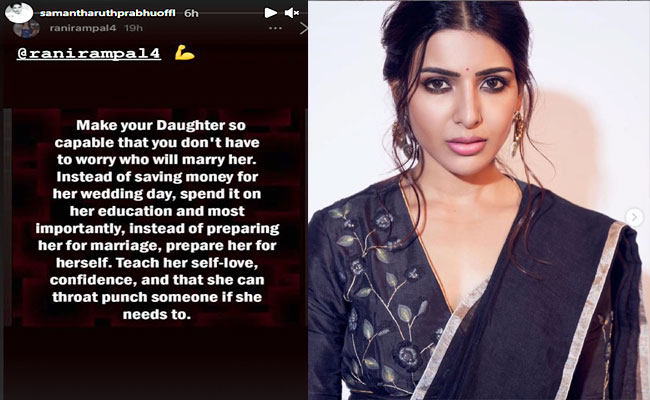 When Naga Chaitanya and she were going through a personal crisis, Samantha had posted several cryptic messages on social media with the caption "My Momma Said".
After they announced their separation on October 2nd, she cut down her social media activity for a week. And she began posting photos of herself.
Samantha is back to posting quotations about love and marriage. In a new Story she shared on Instagram, she asked parents to teach their daughters self-confidence so that she could throw a punch if needed.
"Make your Daughter so capable that you don't have to worry who will marry her. Instead of saving money for her wedding day, spend it on her education, and most importantly, instead of preparing her for marriage, prepare her for herself. Teach her self-love, confidence, and that she can throat punch someone if she needs to," she wrote.
Her latest post has stirred a debate. Samantha has left enough clues when we read between the lines. Anyhow, it is also an important message for parents to think about.