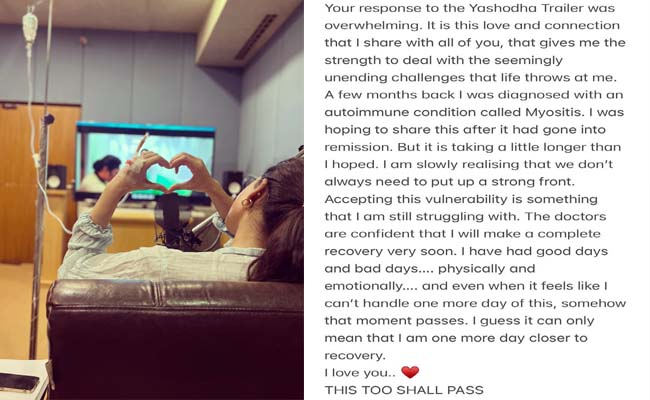 Samantha used paid social media influencers to spread the false message that she was in the United States training for her international web series "Citadel."
While the Telugu media reported that Samantha travelled to the United States for treatment of a skin disease, Samantha's public relations team promoted other information.
She hoped to recover in a short period of time. She thought she'd be fine before the release of "Yashoda."
However, she shared her health update on social media. She revealed that she was diagnosed with "Myositis," a rare autoimmune disease.
Samantha starred in the thriller "Yashoda." The film is set to be released in theatres on November 12.
She had to start promotions or miss out. In either case, she must be forthcoming about her condition. So she took to social media to finally reveal her health condition. She considered hiding it, but the film's release forced her to update it.
"I was hoping to share this after it had gone into remission. But it is taking a little longer than I hoped. I am slowly realizing that we don't always need to put up a strong front," she wrote.
When the Telugu media reported that she had this condition, her manager called the reports false and threatened to sue. Finally, the truth has been revealed.