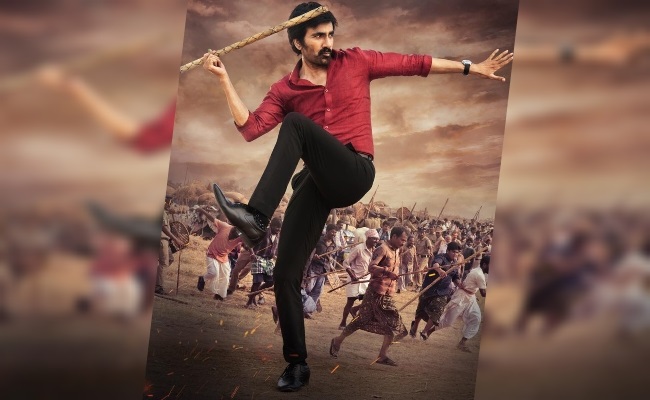 Ravi Teja's action entertainer Khiladi, as announced earlier by the makers will be gracing the theatres on February 11, 2022.
The very next month, Ravi Teja's ongoing flick Ramarao On Duty will be releasing.
The makers have officially proclaimed to release the unique action thriller on March 25, 2022.
That means, Ravi Teja who scored a massive hit with his last movie Krack will have two releases in two months.
As of now, Ramarao On Duty is the only big ticket film releasing in the month of March.
Ravi Teja appears with a stick in his hand and he is ready to throw it. The poster also sees farmers with sticks in their hands.
Apparently, this is from a huge action sequence in the film and Ravi Teja looks macho here.
The poster looks impressive and it indeed gives an impression that Ramarao On Duty will be high on action.
Directed by debutant Sarath Mandava, the film is in last leg of shooting. The filming is happening in RFC where an action sequence is being canned.
Divyansha Koushik and Rajisha Vijayan are the heroines in the movie produced by Sudhakar Cherukuri.
The director came up with a unique concept based on real incidents and first look poster dazzled one and all.
Ramarao On Duty makers are planning to launch huge promotional campaign very soon.