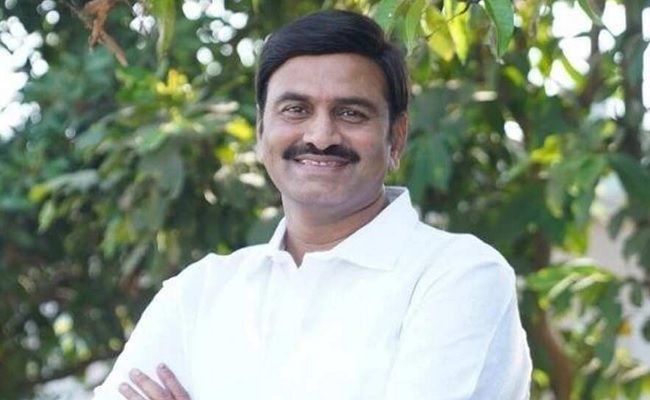 Rebellious YSRCP MP Kanumuru Raghurama Krishnam Raju has defended his comments against the YSRCP government led by Y S Jagan Mohan Reddy on some policy decisions, while trying to convey the message that he was still loyal to the party and the party president.
In a six-page letter to Jagan Mohan Reddy on Monday, Raju sought to target party general secretary and parliamentary party leader V Vijay Sai Reddy, questioning the latter's authority to send him the show-cause notice.
He reiterated that Sai Reddy had sent the notice on the letterhead of YSR Congress party, which is non-existent and reminded that the party's name as per the Election Commission records was Yuvajana Sramika Rythu Congress.
"The EC has also asked the party not to use the name of YSR Congress anywhere," he reminded.
On his comments on the sale of TTD assets, Raju said he had opposed the decision as an ardent devotee of Lord Venkateshwara.
"I am sure you, too, would not go against the wishes of the Hindus who stood by you all the times. But I am being termed as anti-Christian by certain sections of people around you," he said.
The Narasapuram MP also sought to give the impression that the decision to introduce English medium in place of Telugu in all the government schools is anti-Constitutional.
"Since I took oath stating that I owe true allegiance and faith on the Constitution of India, I spoke in favour of Telugu. No party and its manifesto should be against the Constitution of India," he said.
He also defended his comments on the sand policy of the state government. He reminded that he was not the first one to point this out, but even minister Peddireddy Ramachandra Reddy also publicly commented about sand pilferage.
"Since I could not get an audience from you, I had to make statements in public," he said.
Raju said his comments about his victory were also twisted.
"I said while 90 per cent of the credit for my victory goes to the party and 10 per cent to my own credibility in the constituency," he said.
He said he was pained at the way the YSRC MLAs had called for burning of his effigies and started threatening him.
Since there was no response from even the top police officials, he had to write to Lok Sabha speaker Om Birla and Union home ministry seeking additional central security.
He alleged that he was being targeted by some party leaders by planning stories in the media and social media against him.
He also defended airing his views in the television debates stating that he had only presented a rational and functional perspective on the issues.