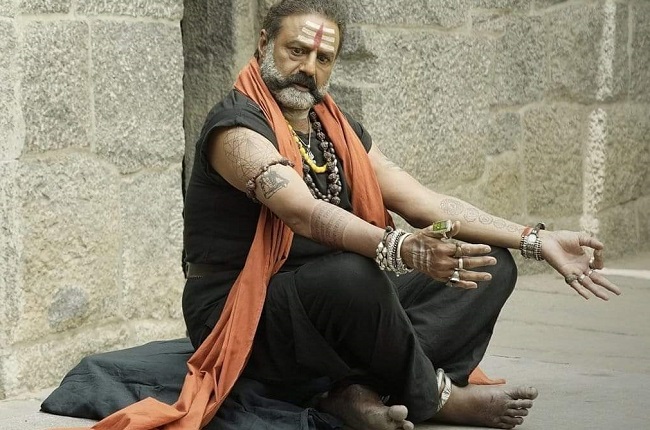 Aghoras are selfless people who spend most of their time practicing spiritual practices like Penance (Tapasya), mediation etc.
Director Boyapati Srinu did intense research to pen the character and script of his film Akhanda where Balakrishna will be seen in dual roles and one among them is an Aghora.
It's indeed the toughest role played by Balakrishna so far and as revealed by Thaman he too did his homework to score music for the portions of this character to give authenticity with his BGM.
In this picture, Balakrishna appears in Aghora getup practicing Tapasya and he looks intense here.
Black costume, saffron kanduva, Rudraksha mala, rings, bracelets, tattoos, vibhuti bring trustworthiness to the character.
Boyapati earlier presented Balakrishna in dual roles in their previous films together Simha and Legend. But, this Aghora character in Akhanda is said to be much more powerful.
The character makes entry towards interval and it will be there throughout the second half.
The narrative will be next level, ever since the entry of this character and many unknown facts about Aghoras will be revealed in an intriguing and engaging manner.
The theatrical trailer showed two characters of Balakrishna and it took the expectations to another level.
As announced by the makers, Akhanda's pre-release event will be held tomorrow at Shilpakala Vedhika with Allu Arjun and SS Rajamouli gracing it.
As is known, the film produced by Miryala Ravinder Reddy on Dwaraka Creations will hit the screens on December 2nd.