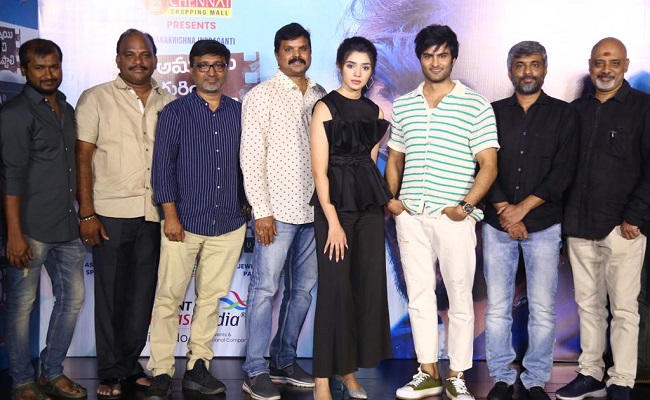 The team Aa Ammayi Gurinchi Meeku Cheppali released a very unique song called Meere Hero Laa. Hanu Raghavapudi too attended the event.
Director Indraganti stated that he wanted the song to be very different from usual hero introduction songs.
"I felt how it would be if a press meet with different questions and answers is designed as a song. We, however, made sure there won't be any vulgarity and controversy in the song. Ramjo gave lots of options. Vivek must be appreciated for composing such tough song. Dinesh's choreography is another big asset. Sudheer is like a camelion for me. He's one of finest actors. Krithi is a big surprise for me. We selected her, before Uppena.
This is my most emotional story. We're coming on September 16th. Hanu with Sita Ramam proved that audience will come to theatres if there is a connecting point in the story. The film talks about family relationships. It has good humor as well. This song is my tribute to press friends."
Hanu Raghavapudi who delivered a superhit with Sita Ramam disclosed that he's a big fan of Indraganti. "There's huge impact of his Grahanam on me. His movies are very genuine. Sammohanam is one of my favorite movies. Aa Ammayi Gurinchi Meeku Cheppali is an interesting title."
Sudheer Babu spoke about the importance of journalists in taking movie close to the audience. "I'll always learn something new, when I work with Indraganti garu. He didn't try to make huge commercial movies. I didn't repeat heroines more than twice, but due to my chemistry with Indraganti, I worked for three films with him. This is my fourth movie with PG Vinda. While Indraganti is my first affair, my second affair is with Vinda."
Sudheer Babu also expressed his wish of working with Hanu Raghavapudi.