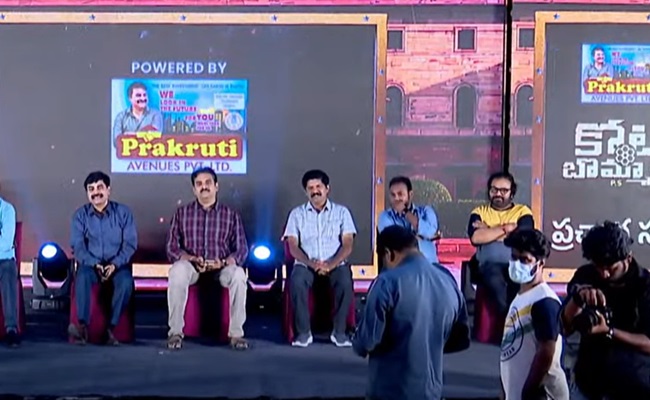 For the first time, a stage was set at the "Kota Bommali PS" pre-release event to host a reverse press meet, where individuals from the film industry posed questions to the media journalists. A few journalists were called onto the dais, and the film personalities asked them questions.
Allu Aravind, Dil Raju, director Sai Rajesh, Bunny Vas, and Sivani Rajasekhar were among those who asked questions prominently.
Dil Raju inquired if it was possible for journalists to review the script before production and determine if it was worth giving a 4.5 rating.
The point to note here is that film-making doesn't conclude at the script level. While a script may sound wonderful, numerous factors come into play when it transforms onto the screen. Both the filmmakers and reviewers understand this fundamental aspect. Therefore, a critic's role is to evaluate the film after its release, not before. If a critic becomes involved in film-making, they cannot genuinely fulfill their role as a critic after the release.
Dil Raju also asked if there would be any chance to review the film after a week for damage control. Where is he living? This is 2023, where social media is rampant. Thousands of reviews come directly from theaters from the general public, and no one can stop them. In response, a journalist aptly answered, stating that if the entire journalist community waits to review after a week, then the film industry would ask for reviews after a month and there is no end to this.
Sai Rajesh questioned why there were no 4/5 ratings in the last five to ten years for any film, including Bahubali, Pushpa, KGF, RRR, etc.
To answer this question, the first thing to keep in mind is that ratings should be given based on the content's value, not its commercial outcome. A film that captivates viewers with tenacity in terms of story, screenplay, dialogue, surprise elements, originality, and technicalities, without any drop in quality, may approach a 4/5 rating. Bahubali-2 only reached a 3.5/5 rating in terms of content.
RRR doesn't come close to Bahubali in terms of content standards, which is a unanimous opinion. Even though Hollywood directors may praise the film as part of Oscar promotions, local media didn't rate it highly. Telugu cinema has gone international with weak content compared to films from the same industry and director. This is an indisputable fact, and the film also incurred significant losses for many distributors.
Not every good or bad rating correlates with the commercial outcome, but sometimes it does. Pushpa lacks originality in many aspects, resembling the Narcos series even in scene conception. The film attracted audiences due to its songs and music, resulting in a rating below 3. The box office results coincidentally matched, with some distributors losing their investment in certain areas.
The film 'Baby' received a 2.25 rating due to vulgarity in dialogues. Even if it succeeded at the box office, it cannot be considered great content. Similarly, "Mangalavaram" received a 2.75 rating, but that doesn't mean it should surpass the box office record of 'Baby.'
The bottom line is that ratings reflect the content value, not the prediction of box office results.
Sai Rajesh should not forget that Mahanati received a 4 rating in 2018. In the past, Magadheera received a 4 rating, Arundhati- 3.75, Pokiri- 3.75, and many others were on the list. On the flip side, the film Athadu received a 3.25 rating for its content but didn't perform well at the box office in India.
Allu Arvind inquired about the friendship between media and journalism and the reasons for not being aggressive on films.
Aravind himself had an experience. His son Sirish started Nonstopcinema.com to make a presence in web media. As part of the mega family, his site used to give top ratings to Chiranjeevi and Pawan's films. However, when the site went critical for other heroes, the fans retaliated. To be 'industry-friendly,' the website continued to give positive reviews for all films. The site eventually closed for failing to meet the public's expectations. Later, a magazine, South Scope, was also started by Allu Sirish and closed for being 'industry-friendly.'
A media journalist from the dais stated that society would change if Pawan Kalyan comes into power, to which Bunny Vas blushed. This sycophancy raises suspicions that Bunny Vas might have arranged for a journalist to express positivity about Pawan Kalyan from the dais.
Another journalist at the beginning expressed that his life would be in blissful fulfillment if Allu Aravind asked him a question. Such public demonstrations of worship reflect poorly on the journalism community.
In the worlds of politics and the film industry, the media should play the role of opposition. Only then can quality, competition, and vigor prevail. So-called 'friendly journalism' is always detrimental to society. While a journalist and a film personality can be personal and family friends, they cannot use that friendship for their business. Not many stand firm on this line.
PS: This gathering was arranged as a component of the Kota Bommali promotional activities. Observing the lack of inquiries about the film and its complete diversion, actress Sivani Rajasekhar posed a final question to the journalists, inviting them to express their thoughts on the movie, but there is nothing much about it. This aspect adds a touch of irony to the press event.