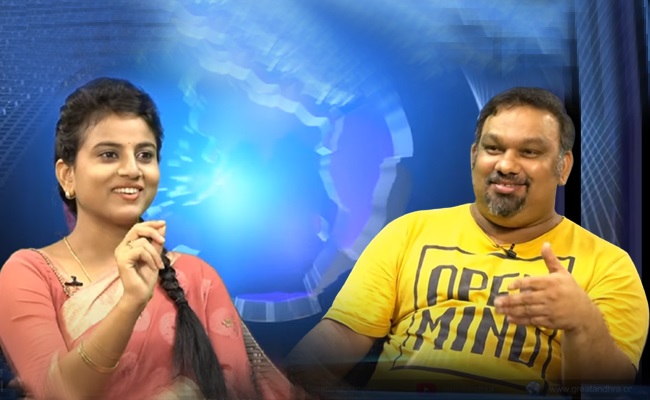 Mahesh Kathi, the social activist, film critic, actor and commentator has given an exclusive interview to greatandhra for the talk show of Chit Chat With Chandana.
Here are the glimpses of his talk:
Cases:
Around 15-20 cases are filed on me on the charges of hurting the religious sentiments, disrupting the public order etc. I was also banned from entering the Telangana State for six months. I say that one has to abide by the law. And one needs to question the law as well if it is doing any mistake. That's the ignition given by Dr BR Ambedkar. Small to medium range attacks happened to me. I love to live in the way I wish to. I am prepared to die in the process.
System of Marriage:
Coming to my personal experience, I understood that marriage as an institution was not working for me. I decided to live independently. I told my wife that she is free to be independent. The common thing between us is my son.
Pawan Kalyan:
He got 7% votes and 1 seat. So he cannot be called an opposition leader technically. Had Chandrababu Naidu got 5 seats lesser, he too would have lost the status of opposition leader. Keeping that aside, Pawan said in his manifesto that he will strive for caste free society. But he is now asking for Kapu reservation. At the same time he wouldn't support Mudragada who strived for Kapu reservations. Similarly he said that he will keep religion away from politics. But he joined hands with BJP, the mission of which is to establish a Hindu nation. These are blatant examples to show the double standards of Pawan Kalyan.
"Power Star" Vs "Parannageevi":
The last 10 minutes of "Power Star" appears to be positive for PK fans. But that's the over action by Varma which can be understood only by sane minds. Parannageevi is a film that couldn't pull the attention of viewers because nothing new was shown in that. The film portrays RGV's character as a womanizer, drunkard and a careless film maker. RGV himself attributed all these qualities to himself in several interviews. So, showing the same in a film will not give any effect.
YS Jagan:
Getting Rs 2000 every month into the account, getting treated for Covid-19 in Aarogyasri scheme are unbeatable. Only the end users can understand the beauty in this. People will vote for Jagan for the next few years. His schemes related to health, education and the volunteers system are really helping the large section of people.
Mahesh Kathi has also given some opinions about Lord Rama, Valmiki, CBN, Pawan Kalyan, Modi and Ram Gopal Varma.