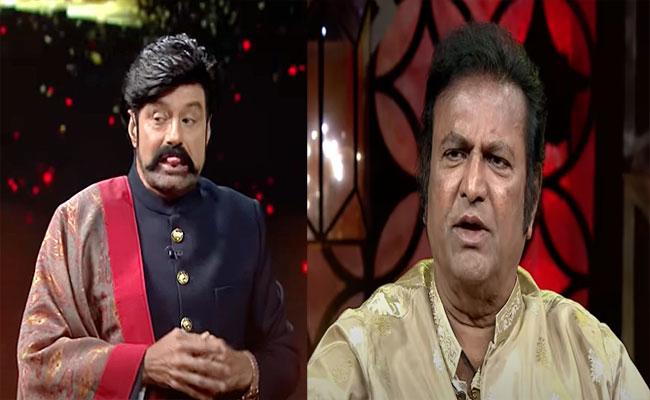 It is a general phenomenon to have a peg at evenings among the film industry people. Many people hide this and only some express it boldly.
Everybody knows that Balakrishna's brand is Mansion House brandy. Similarly Mohan Babu has a brand of his own. Both these actors sat together to chitchat on a talk show. The show is 'Unstoppable" on AHA and the host is Balakrishna.
"My liquor story is an old one. There was a bridge in Kodambakkam, Chennai. The cheap liquor used to be sold under the bridge. I used to go there along with my friend. Of course I can't reveal his name. We both used to drink 25 paise of liquor each with a pickle as munching. Our lives started like that. By God's grace I could earn good. Now I am having whisky by saluting royally".
Mohan Babu came as a the first guest for Balakrishna's show.
"Everybody knows about my brand, Mansion House. I have a house. That itself is a big Mansion House. I will have a peg every night. Morning I wake up at 3:30 or 4 AM. I will go to KBR park for walking. If the park gate is not opened, I will jump the wall and walk. I also taught many how to jump the wall", said Balakrishna.
Interestingly some political discussions also happened between the two.
"I committed a mistake by leaving NTR and walking behind Chandrababu. Rajinikanth also expressed his disappointment on this. We both met NTR. He was upset. Later Chandrababu committed a mistake in my case. I was the person who was named as a man of discipline by NTR. But Chandrababu (your bava) necked me out saying that I don't have discipline", said Mohan Babu.
The discussion between both the senior actors is interesting though Manchu Vishnu and Lakshmi disturbed the flow in the middle. The charity activity in the end is forced.