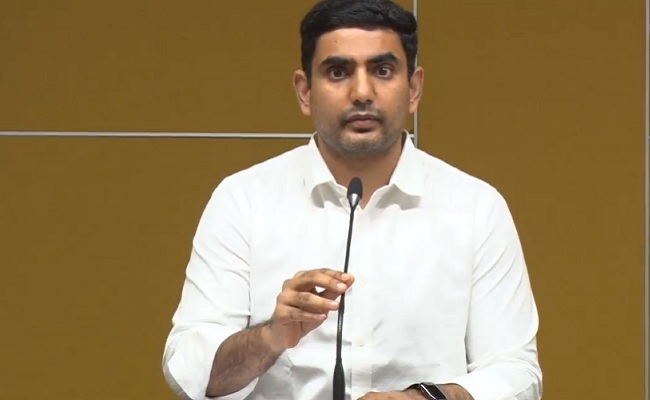 The political situation in Andhra Pradesh is always charged up between the ruling YSRCP and the opposition TDP.
Recently, former minister Nara Lokesh Babu took potshots at the YCP government by bringing up the topic of expenditure incurred on the YS Jaganmohan Reddy's swearing-in ceremony.
He tweeted that the expenses for the water bottles, snacks for the swearing-in ceremony were Rs.59 lakhs. On another occasion, he commented that and the total expenditure for the ceremony was Rs.65 lakhs. By mentioning these figures he criticized the Jagan's government is wasting the taxpayer's money.
Ever since Lokesh made these comments, netizens are coming up with strong retorts reminding of the expenses of Nara Chandrababu Naidu's swearing-in ceremony. A netizen came up with all the details and compared it with YS Jagan's swearing-in ceremony expenses.
"The total expenditure for the swearing-in ceremony of Chandrababu Naidu was Rs. 30 cr. Guntur collector had spent Rs.6.16 cr for the Chandrababu swearing-in ceremony. The officials of various departments in Guntur had spent Rs.5.06 cr for the same event. Rs.1.50 cr was spent on providing police security.
Apart from these expenses, 8 special flights and 12 helicopters were used for the swearing-in ceremony. The expenses by Krishna district collector along with the expenditure of flights, helicopters turned out to be Rs. 20 cr."
If we do simple math, the total amount will exceed Rs.30 cr.
He said that Lokesh Babu is not aware of the unnecessary expenditure and publicity stunts by his father, the great Chandrababu but he is targeting the Rs. 65 lakhs expenses for a ceremony that was attended by 2 lakh people.
On the final note, the netizen concluded, "Lokesh doesn't know the difference between crores and lakhs so he is thinking Rs 65 lakhs is a bigger amount than Rs 30 crores!
CLICK HERE!! For the In Depth Updates on all the OTT Content