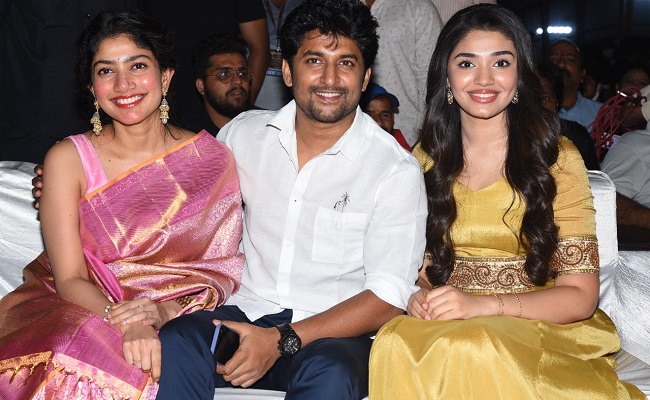 Nani, Sai Pallavi and Krithi Shetty starrer Shyam Singha Roy is getting ready for release on 24th of this month. The team has celebrated Royal Event in Warangal with the huge crowd attending it.
Krithi Shetty informed that she and her entire family likes Nani a lot. "Shyam Singha Roy is a treat to watch with wonderful performances, high-end visuals and execution. I feel honoured to work with Nani for my second film. I learnt a lot from him."
Sai Pallavi said Nani's fans will go crazy watching Shyam Singha Roy in theatres. "Shyam Singha Roy is a visual feast. Art director Avinash Kolla, cinematographer Sanu John Varghese and costume designer Neeraja Kona worked really hard for the movie. Producer Venkat is the most positive person I've ever met."
Dil Raju heaped praises on Nani saying he'll become much bigger star. "Nani and Sai Pallavi previously created magic with MCA and the magic will be repeated with Shyam Singha Roy."
Producer Venkat Boyanapalli thanked all the guests for gracing the occasion and also requested to bless Nani, Sai Pallavi and Krithi Shetty. "Shyam Singha Roy will be coming for Christmas on December 24th."
Nani said, "Warangal is not just a sentiment, but there's positive vibe in this place. We feel proud, when we do a good movie. I'm experiencing it now. There are many big-ticket films releasing, but I don't have fear, as I know Shyam Singha Roy came out well and you will like it.
A cousin of mine sent me a meme which says SSR will become sandwiched between Pushpa and RRR. Though bread will be nice, the middle part will be the real surprise. You'll come out of theatres with complete satisfaction. Christmas belongs to us.
Director Rahul is not here as he's busy with mixing in Chennai. I didn't want to judge him, as I didn't watch his first movie. I watched SSR and I can judge him now. I believe he will become one of the top directors, with his sensibilities and clarity. Producer Venkat treats me like one of his kids. I thank him for his trust and love. I wish our association will go long away.
There is a song which we will be releasing in 3-4 days. Your minds will be blown after watching Sai Pallavi's dance in it. Sirivennela penned the song. You'll fall in love with her. Krithi showed her dedication from the beginning. I'll know she will be in a very good position in future. We can't imagine any other actor in the role."
Nani also shared his experiences and journey of working with legendary lyricist Sirivennela Seethara Sastry.