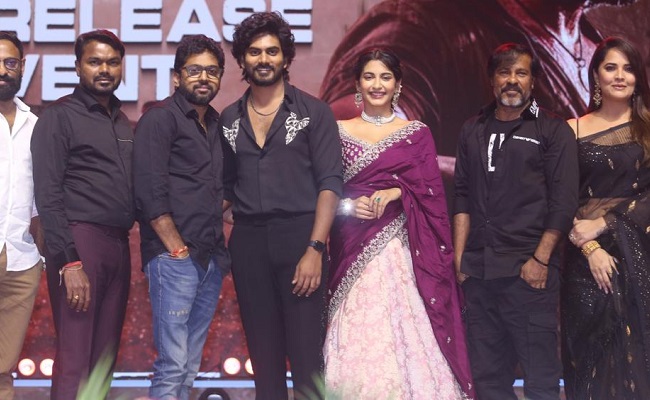 Virat Karrna is introduced as a hero with director Srikanth Addala's latest directorial venture Peddha Kapu-1.
The film produced by Miryala Ravinder Reddy had its pre-release event celebrated in Hyderabad.
Satyanand who trained several superstars of Telugu cinema made some interesting remarks on Virat Karrna.
"When a Guru gets to associate with some good disciples, he is very fortunate. When I first met Virat, I had a very positive impression on him. I had the same feeling earlier when I met Prabhas for the first time at my home."
Producer Miryala Ravinder Reddy stated that almost every actor who worked for the movie got injuries during the shoot of the movie.
"Srikanth Addala initially narrated two other stories. But after watching a showreel of Virat, he felt Peddha Kapu would be an apt choice for him. Virat is lucky to get such a script for his debut film."
Srikanth Addala said, "It's always a struggle to grab a movie offer every time. I suggested Virat not to treat himself as a newcomer because this is the story of a common man. Making a movie with these many artists was a great thing for me."
Virat Karrna said, "I will always be indebted to my bava (producer). I thank Addala garu for believing in me and giving me this movie. I have many fond memories of the movie."
Director Vassishta who also graced the event wished hero Virat Karrna and the entire team all the luck.