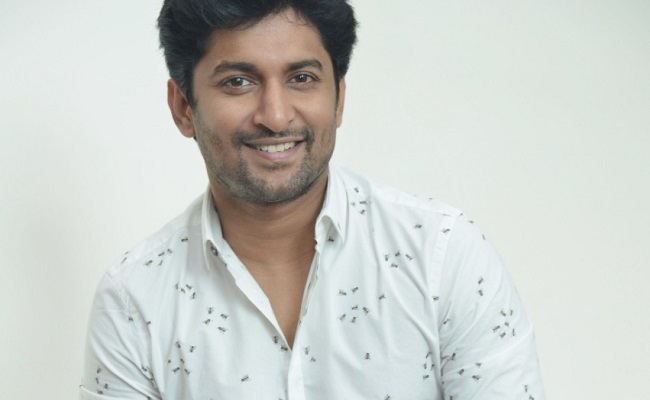 Natural Star Nani will have second direct OTT release with Tuck Jagadish which will premiere on Amazon Prime in few more hours.
The actor says he too is missing the theatre experience, but under current circumstances, OTT is the best option.
"Whenever everything is ready, we are ready with films in pipeline. However, I too am missing to watch movies in theatres."
He says Tuck Jagadish will be a complete different film for Shiva Nirvana's previous films.
"Dealing family emotions is Shiva's biggest strength. He designs characters in a way that, every role will have its significance. In fact, we will relate to every character."
There will be a good explanation for Tuck Jagadish title, informs Nani adding,
"Jagadish has this habit of tuck in a shirt, since childhood. It is explained beautifully in the film. Many will connect to it in personal level."
Shiva Nirvana earlier said that Tuck Jagadish will have some twists. However, Nani calls it a complexity in a family drama.
"If we assume something about a person and when it comes out, he's not the same person, it will be a shocker for us. There is one such person in the family. Shiva designed it interestingly. I liked the way he brought those elements to the story."
He informs Ritu Varma played his love interest and his track will give a breather in the family drama. Aishwarya played my niece. To what extent Jagadish goes for his niece will be interesting to watch.
Nani affirms entertainment means engaging audiences.
"As an actor, I really believe that we need to do all kinds of films. I will accept films, only when I feel the role or the script is challenging. There should be some excitement. I already started a different journey. You will see a new Nani in Tuck Jagadish. My roles in Shyam Singha Roy and Ante Sundaraniki will also be completely unique."
There won't be Pan India films in next 2 years, predicts Nani.
"We have different language movies available on OTT. I'm habituated to English subtitles, so I want to watch it in original language only. People are not really interested to watch dubbing version, rather they are keen on watching them with English subtitles."
Nani once again defends his acceptance for OTT release of Tuck Jagadish.
"I want to say exhibitors that, there's still lots of content available, when everything is ready. First of all, I'm giving a proper family film for festival. Since I'm doing back-to-back films, it will provide work for daily wage workers and technicians. I'm coming grandly with Shyam Singha Roy, when theatres are ready."
Hit 2, the latest production venture of Nani starring Adivi Sesh is fast progressing with its shoot.
"We wanted to come up with much bigger content for every new series of Hit franchise. Meet Cute will most probably release on a digital platform."
Nani's Ante Sundaraniki is in the middle of the production.
"First look poster of the film that will be out for Dussehra will stun you all. And, Shyam Singha Roy will be by year end. If theatres will be ready, we will even advance release of the movie."