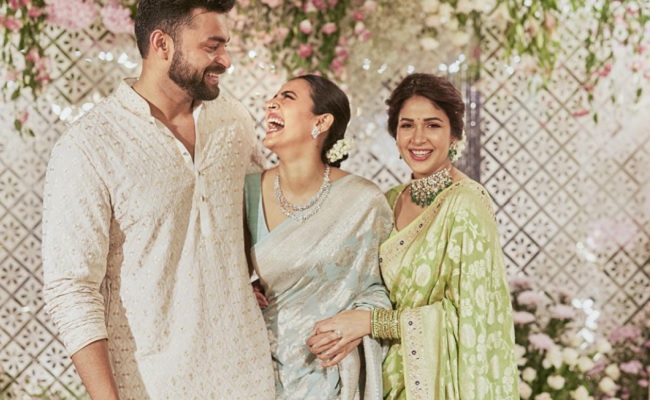 The engagement ceremony of Varun Tej and Lavanya Tripathi was held at Naga Babu's house on Friday.
It is known that this celebration took place among a small gathering of family members and friends. Photos from this ceremony are going viral on social media.
In particular, the photo shared by Varun Tej's sister, Niharika, on her Instagram is causing a stir on social media.
Varun Tej and Lavanya Tripathi's engagement ceremony was attended by Naga Babu's beloved daughter, Niharika.
In this photo, there is a lot of discussion surrounding Niharika's husband, Jonnalagadda Chaitanya.
Rumors of Niharika and Chaitanya's separation have been circulating for some time, but neither side has responded.
Against this backdrop, a recent photo shared by Niharika on her Instagram has fueled speculation about their separation.
Netizens believe that Niharika indirectly indicated that Chaitanya did not attend the engagement ceremony.
They suggest that Niharika should have thought twice before sharing this photo on her Instagram, as she was well aware that questions would arise about Chaitanya's absence.
They also noticed that Niharika cleverly intended to send a message about her relationship with Chaitanya through this photo.
It is not an exaggeration to say that this single photo shared by Niharika has sparked a noisy discussion.