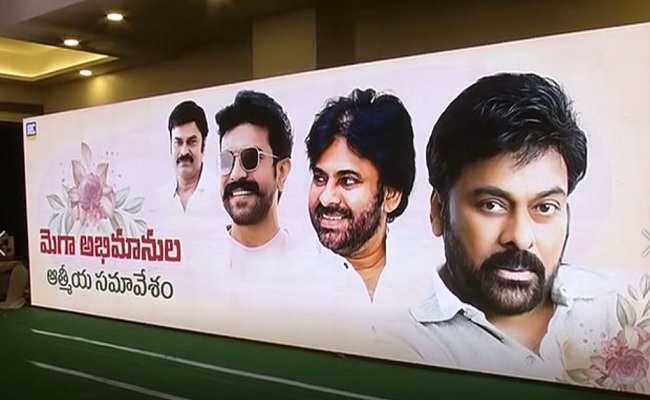 Are the fans of film stars really the true admirers and followers of their favorite heroes? Do they really listen to the words of their heroes and follow them? Or do they live as per their whims and fancies leaving a deaf ear to whatever the actors say? Are their whistles to their stars in public meetings are only histrionic and hold no sense?
We get all these doubts while thinking about the fans of Mega Star Chiranjeevi.
A meeting was held among the Mega Fans in Vijayawada and the agenda was to work towards the victory of Pawan Kalyan in the coming elections.
The pictures of mega heroes shown on the banner are Chiranjeevi, Nagababu, Ram Charan and Pawan Kalyan.
The President of All India Chirajeevi Fans Association Swami Naidu told the media that their fans are going to work towards the victory of Pawan Kalyan.
It is yet to be known if Chirajeevi really knows about this meeting. Because, he keeps on making rounds around YS Jagan Mohan Reddy to be in his good books in order to get the ticket prices increased.
He never openly supported his brother's party Janasena in recent times. Moreover Pawan Kalyan also insulted Chiranjeevi in a couple of meetings indirectly pointing out that he didn't like his elder brother going to Chief Minister requesting for the hike in ticket prices.
Considering all this, it appears that the mega fans go with the flow in frenzy and they hold no sense and sensibility in spending their time on something.
Well, as the pictures of Allu Arjun are not seen on the banners, it is clear that the mega fans disowned him officially.