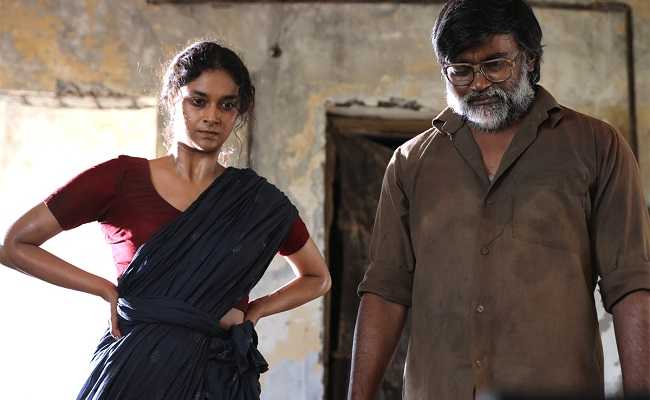 Some films pull the attention of the audience in spite of no publicity. The major reason would be the sudden appearance of a thumbnail or digital poster featuring a top actor or actress.
A new film titled 'Chinni' starring Keerthy Suresh appeared all of a sudden on Prime Video. The poster suggests it to be a crime thriller kind of thing. As we jump in to watch the film in the drawing room, considering the lead actress, it may prove to be a wrong thing to do if there are weak-hearted and children around.
This is a hardcore revenge drama with blood shed and the most cruel way of killing people in the name of revenge. The story line is so simple that a tiff between a young married man and a group of some villagers fires up and leads to the rape of his wife and the immolation of both the young man and his daughter.
Then the raped victim, who happens to be a police constable boils in revenge mood and kills all the culprits behind the injustice happened to her. This is a kind of another Indian 'Kill Bill', though many films have seen light on these lines before.
Keerthy Suresh's performance deserves huge accolades but this is not something like that of a 'Family Man' to Samantha. Playing a tough woman's role doesn't make it a right choice always unless the storyline is gripping and the narration is nail biting.
Here the biggest flaw is the audience fail to get convinced with the culprits who look older and in 60 plus and they hold no powerful background. The protagonist is the police constable but she hardly takes any help from the department. Moreover, the village sees no population other than the main characters.
Set in the backdrop of 1989, this film directed by Arun Matheswaran ends up as a half cooked product. The emotional graph between the couple and the engaging drama is totally missing. Nothing other than doing poetic justice to the protagonist by making her quench the revenge is appealing.
The brotherly relation of Selva Raghavan with Keerthy Suresh is subtly conveyed with an old song (Chanduruni Munchu Andamolikinchu from Rakta Sambandham) which can be taken as a symbolism.
On a whole, this is only for private watching and not something that can be watched with entire family sitting together.
Streaming On: Amazon Prime Video