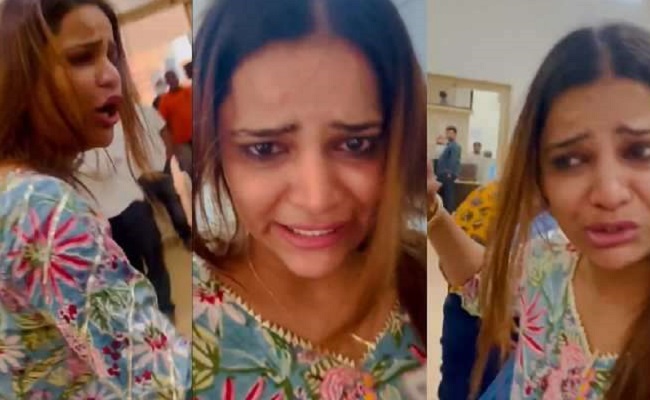 Tirumala Tirupati Devasthanams on Monday accused Bollywood actress Archana Goutam of misbehaving with the TTD employees and tried to attack them, besides lodging a false complaint against them.
Archana Goutam, also a model-turned-politician, who contested 2022 Uttar Pradesh Election as Congress candidate from Hastinapur constituency of Meerut district, came to Tirumala for a darshan along with another leader Shivkanth Tiwari and seven others for a darshan on August 31.
The TTD authorities said she brought a recommendation letter from a Union minister for the break darshan. But she came a day in advance and wanted darshan for them, which the staff refused to accept.
This led to a heated argument between her and the TTD staff.
While the TTD official spokesman said Archana had abused the staff in foul language and tried to assault them, she released a video on Monday on Twitter making serious allegations against temple authorities.
Archana claimed she was denied entry at the Tirupati temple and "mistreated" by the temple authorities. She shared a video of the ordeal and said the temple authorities charged her Rs 10,500 for "darshan" visit.
In her tweet, she also urged Jagan Mohan Reddy government in Andhra Pradesh to take action against the staff at the temple.
"India's Hindu religious places have become a den of loot, in the name of religion, Tirupati Balaji indecent with women, action should be taken against this TTD employee. I request Andhra Government. And in the name of VIP darshan, Rs 10,500 is taken from one person. stop robbing it. @INCIndia," Archana tweeted.
The TTD spokesman, however, said the authorities had offered them Rs 300 special darshan tickets, but she refused to take them.
The TTD authorities told her that if she wanted, she could buy the break darshan ticket by paying Rs 10,500 through Sri Vani Trust on September 1.
"She misunderstood this suggestion and lodged a complaint with the police saying the TTD demanded a bribe of Rs 10,500. She thinks being a celebrity, she can say anything," the spokesman clarified.