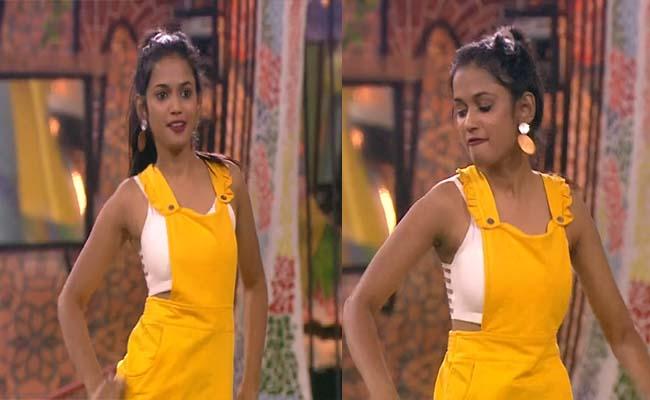 Ariyana Glory who does interviews for some YouTube channels has grabbed public attention in the fourth season of Bigg Boss, where there aren't many known faces.
She managed to remain in the house until the penultimate week and is likely to enter the finale too. Ariyana didn't try to pick fights with the housemates until the fourteenth week. She only pointed out the flaws of other housemates during the nominations.
Ariyana neither confronted Akhil nor Sohel during the ticket to the final task where she thought they weren't playing the individual game. However, she did a performance for the cameras in the washroom making sure that other housemates (except Avinash) wouldn't hear what she was saying.
Avinash repeatedly tried to argue with just before he was eliminated, but Ariyana didn't reciprocate as she is aware that he will be evicted that week.
With only one housemate to be evicted before the finale, Ariayana has marked her targets. She targeted Monal and Sohel and chose a 'show no emotion' task where they couldn't respond to what she says.
She thought it is a win-win scenario for her as they will lose the task if they respond or she can highlight all their mistakes without any counter argument.
Monal didn't confront Ariyana after the task but she cried uncontrollably and even got a chance to talk to the Bigg Boss in the confession room.
Ariyana chose Sohel as her next target and kept on provoking him as she is aware of Sohel's bad temper. She instigated him by not stepping back at any moment during the heated argument and later played the woman card by saying that "How can Bigg Boss allow such aggression against a female?"
She could have chosen a better time to confront Monal and Sohel if she had issues with them. She cannot strategically pick a time where they cannot respond to make her point.
Well, Sohel's aggression is not right and totally condemnable. But being with him in the same house for fourteen weeks, Ariyana is aware of his mad aggression.
She provoked him so that he will lose his cool, which might hurt his chances to enter the finale. Although Ariyana has been receiving support from a section of the Bigg Boss audience, many were able to assess the situation, which is why she isn't getting unanimous support neither from inside the house nor from outside.
Unseen videos also made it clear that it was a planned attack. But this whole 'targeted attack' has changed the dynamics of the game. If all this drama happened for the sake of sealing a spot in the finale, then imagine what could be the scene in the Bigg Boss house during the final week as there will be only one winner.
What would these contestants do to win the title and to hurt the chances of others.
Click Here for Latest Direct-to-OTT Releases (List Updates Daily)