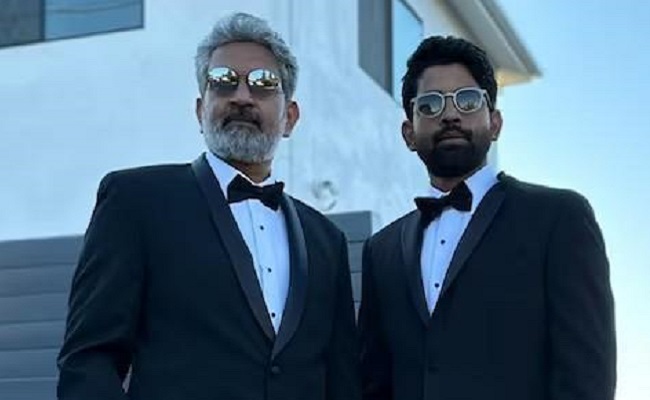 What is the weakest film in the filmography of SS Rajamouli? Majority of the audience will give the same answer- 'RRR'.
A story with a historical blunder is thrown on the public to accept that up as a historical fiction. But still, only with the Bahubalian aura of Rajamouli the film could run in theatres. There is a huge dispute on the collection of RS 1200 Cr as well. There are many who claim that as a manipulated figure.
But still a bigger manipulation is going on by this film team to project RRR as a better film in collections than that of KGF2. It is known that the tickets of RRR were sold at higher prices in the initial week in almost all the centers taking a special permission from the authorities. But that was not the case with KGF2. From day one the tickets were sold at regular prices. Under these circumstances the footfalls should be taken into account, but there has been no tool to measure it efficiently. It is needless to say that the footfalls in theatres for RRR are lesser than that of KGF2.
Now Rajamouli is breaking the roof with his continuous efforts to win an Oscar award from RRR. He is screening the film in different countries. Recently he made his Japan tour to screen the film where he could get back only half of the amount of the total expenditure incurred on this mission in Japan.
He is now in the USA lobbying for an Oscar award with the help of several influencers. Freshly, he attended the Governor's Awards event in Los Angeles. 'RRR' also won the Best International Film award at the Saturn Awards 2022 which is recalled here while publicising about this.
Moreover Rajamouli announced a sequel to RRR which is already oozing out from the pen of his father Vijayendra Prasad. Many say that RRR itself is a worthless story and now the sequel is going to bother further.
Rajamouli is known as a master craftsman but his efforts to get an Oscar award for an undeserving film is making many frown in disappointment. If the film gets an Oscar, then it will be revealed to the world that an Academy award is possible by persistent lobbying. As patriotic Indians, let us wish Rajamouli brings that image to Oscar Academy by winning an award.
Srinivasa Bhanu Lakkoju