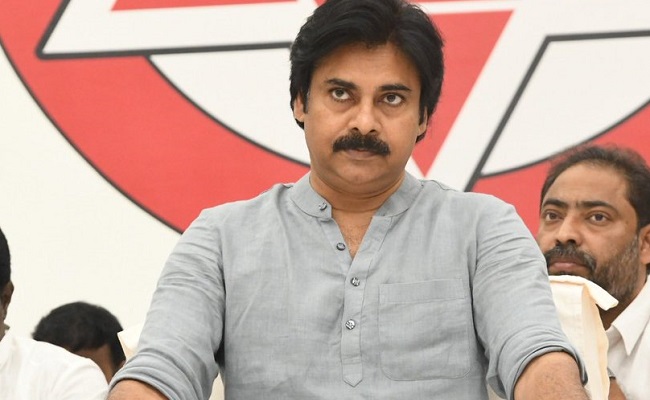 The way Tollywood power star and Jana Sena Party chief Pawan Kalyan is mixing politics with cinema has cost the Telugu film industry heavily in the past and it continues to cost in the future as well.
At a time when the Telugu film industry biggies have been doing intense lobbying with the Y S Jagan Mohan Reddy government in Andhra Pradesh to see that the cinema ticket prices are enhanced, Pawan once again shot his mouth at the chief minister.
Speaking at the one-day deeksha at Vijayawada in protest against the proposed privatisation of the Visakhapatnam Steel Plant, Pawan Kalyan alleged that Jagan had tried to hit at his financial roots by reducing the collections for his films.
"I am not scared, even if Jagan stops screening of my films. If he is so adamant to take any revenge against me, I will not mind screening my films in Andhra Pradesh to the theatres free of cost," the power star challenged.
Obviously, Pawan was referring to the reduction of ticket prices in theatres last year during the release of his film Vakeel Saab. He is of the view that Jagan was resorting to witch-hunt of him because of he had political differences with the YSR Congress party.
Even on the Andhra Pradesh government's decision to take over online cinema ticket sales, Pawan raised a strong objection when the entire film industry, including his own mega brother Chiranjeevi supported the decision.
Pawan used a film function to make strong comments against Jagan and the film chamber of commerce and producers' council had to give a clarification that his comments were his personal and had nothing to do with the industry.
Whatever may be the reason, it was because of Pawan Kalyan's attitude in mixing the films with politics that the Telugu film industry had to suffer. And it is continuing to suffer.
Now with Pawan making a fresh challenge that he would screen his film free of cost, Jagan will definitely get more and more stubborn and care a damn for the Tollywood.
Now, the industry people would have to do something to control the damage.