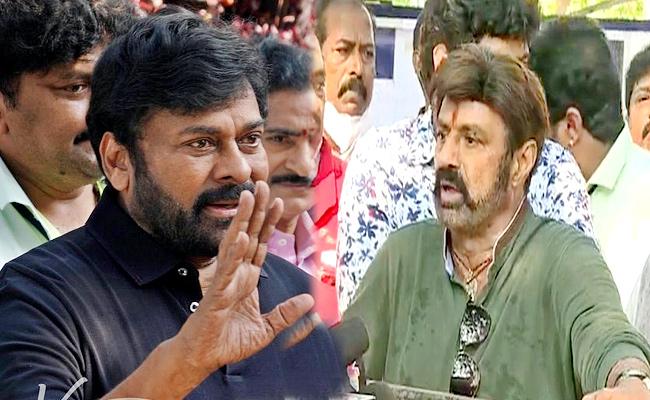 There is an internal tiff between the films of two big heroes for this Sankranthi. We have seen many films of Chiranjeevi and Balakrishna coming up in the same Sankranthi season. But for the first time, both the films of these two heroes are ready on the same banner and ready for release.
The banner is Mythri Movie Makers and the films are Chiranjeevi's 'Waltair Veerayya' with Bobby as the director and 'Reddy Garu' with Balakrishna in the main lead with Goichand Malineni as the director.
It is said that Balakrishna is insisting on releasing his film in the same season as Chiranjeevi's film. Banner being the same is thinking that it would be a risk for their business.
Let us analyse who has better edge perception wise if both the films release in the same season.
Balakrishna's last film 'Akhanda' was a big hit. He is now abuzz with his Unstoppable show. The director is Gopichand Malineni who scored a hit with Krack. Though Balakrishna worked in films like 'Samarasimha Reddy' long ago, considering the latest political atmosphere the title 'Reddy Garu' surely brings a buzz. By all means this film has no reason to look down.
Coming to Chiranjeevi, he scored a big disaster 'Acharya' and after that his latest film 'Godfather' is not a blockbuster like Akhanda with regard to collections. Moreover the director of 'Waltair Veerayya' is Bobby who reminds us of the films like Sardar Gabbar Singh and Venky Mama which didn't work at the box office.
So until and unless the content of 'Waltair Veerayya' stands out to be an outstanding entertainer it cannot withstand the aura surrounding 'Reddy Garu'. At the same time 'Reddy Garu' has the biggest challenge of living up to the expectations. Anything less than being a blockbuster content puts down this film.
We have to see how the fans of both the heroes work on social media to keep up their heroes' films.