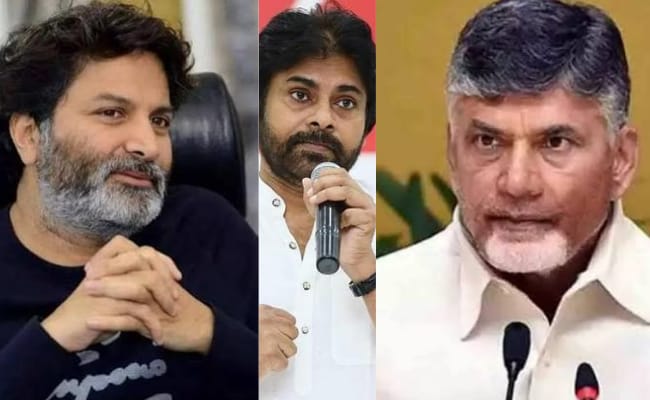 We all know that Pawan Kalyan gained the title 'Dattaputrudu' in the context of his alliance with Chandrababu Naidu in politics. But it should be underlined that he is the dattaputrudu to Trivikram Srinivas in movies.
The fate of Pawan Kalyan's films are in the hands of Trivikram now. If he is pleased, then one can fulfil his dream to work with Pawan Kalyan like that of Sagar Chandra of 'Bheemla Nayak'. Trivikram was part of that project as the first in command.
Similarly, he is mentoring even the Samuthirakhani's film with Pawan and that's why it's moving in fast pace.
On the other hand Harish Shankar is supposed to do 'Bhavadeeyudu Bhagat Singh' on the banner of Mythri Movies. But Trivikram had a tiff with that banner earlier. So, whenever this film needs to be kept in line, Trivikram is bringing in some other film and breaking the queue with his obvious power. Pawan Kalyan has no word to say against Trivikram as he is completely in his trap.
'Hari Hara Veera Mallu' is another film that's happening in the direction of Krish. There is news that the film is getting postponed as Pawan is not comfortable doing the range of action scenes as per the script and director's demand. But a grapevine says that Trivikram is behind influencing Pawan in losing interest in that project.
On a whole, it is understood that Pawan Kalyan cannot sail without the support of someone. He needs the support of Chandrababu in politics and the help of Trivikram in movies. He kept his careers in their hands. But both of them are making their selfish needs fulfilled using Pawan Kalyan. Pity!