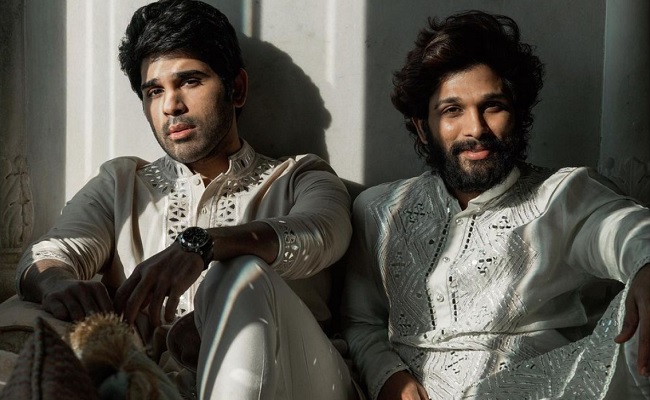 Allu Sirish, the son of ace producer Allu Aravind is always active though his career as an actor has not hit the stardom yet.
He invested enough of his time behind camera in glorifying his brother in innovative ways. There was a big talk that in the initial days that he used to spend money on celebrity tweets to praise his brother Allu Arjun. Indeed he was a pioneer to the idea of paid tweets. Now every producer is following the same model. In a way it is true that Allu Sirish openly worked in pushing his brother's career. Though the general public was not aware of this much, the media circles know the truth.
But now suddenly Sirish is not seen around. Sources say that he moved on to Mumbai and is living all alone. Even earlier he used to live separately, away from his parents, in Hyderabad as per inside talk.
It seems that Sirish is angry with his dad and also his brother Arjun. He is upset with his father because he feels that he is not focussing on his career like he did with Arjun.
Generally, there is a talk that the Allu brothers keep fighting among themselves but patch up within no time.
But one incident between the two brothers ruptured their relationship as per a reliable source. It seems that Sirish expressed that he was instrumental behind shaping up Arjun's career in the initial days. To this, Arjun denied and retaliated with harsh words.
In a way, Sirish must be feeling that he was the brain behind his elder brother like his dad Allu Aravind was to Chiranjeevi. But there is no recognition or concern from the other side.
When asked about this, an insider said- "It is almost true as far as I know. Allu Arjun is showing off that he is beyond the 'mega' tag. He may not accept it if he grew in the shadow of Chiranjeevi's image all these years. He believes that he grew up only by his toil and talent. When he is not even in a position to recognize Chiranjeevi garu, how can Sirish expect recognition? However Sirish is upset and left to Mumbai"
Though there is talk like this, we have to see how far this is true. Allu Sirish is the kind of person who responds to such gossip with his tweets. We have to see if he responds or makes this talk true with his silence.
On the work front Sirish has only one film in hand with the title 'Prema Kaadanta'. There is no news about the plight of that film.