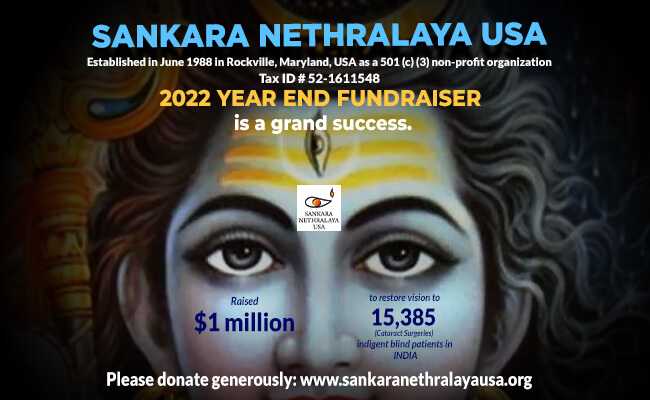 Sankara Nethralaya USA fund-raiser is a grand success - $1.1 million to restore vision to 17,000 patients.
Padma Bhushan Dr. S.S. Badrinath founded Sankara Nethralaya in 1978 with the inspiration from the speech by Pontiff of Kanchi Kamakoti Mutt. Sole objective of this organization is to provide world class eye care to the poor at free of cost and at affordable price to others.
Sankara Nethralaya (SN) is a not-for-profit charity organization providing ophthalmic (eye) care throughout India. For the last 4 decades, SN has treated Millions of patients. SN also organizes eye camps, school screenings and has eye banks.
One of the unique services is Mobile Eye Surgical Unit (MESU), only one of its kind approved by Government of India. These are operation theatres on wheels. MESU consists of two buses serving as operation theatre, go out to remote villages, screen around 1,000 patients and perform cataract surgeries on 150 to 200 patients over a two-week period and return to main campus after post-operative care.
Sankara Nethralaya USA (SN USA), fund-raising arm in USA was established in 1988 with the sole objective of raising funds for SN to provide free services to indigent patients. SN USA is managed by thirty-five honorary trustees spread across fourteen chapters in US and has been raising over a Million dollars for the past several years.
In the year 2022 also, SN USA raised USD 1.1 million that can restore vision to 17,000 indigent patients. Renowned singer and music director, Sri Parthu Nemani, Smt Harini Ivaturi along with their music team rendered semi classical devotional music on December 4th, 2022, and it was telecasted by the following major channels:
ManaTV: https://www.youtube.com/watch?v=EklGCb9v5l4
TVAsia Telugu: https://www.youtube.com/watch?v=min5R6hNl_s
SakshiTV: https://www.youtube.com/watch?v=M-f2xex8X9o
TV5: https://www.youtube.com/watch?v=Y7Sj5yyHusY
Tone TV: https://www.youtube.com/watch?v=DxKGlABDAG0
KIW World TV: https://meworldet.com/home/play-video/686
President Bala Reddy Indurti, President Emeritus SV Acharya planned, coordinated, and well executed the SN USA year end campaign and made it a grand success.
Thanks are due to singer and music director Parthu Nemani and his team of Musicians:
Prakash (Keyboard), Srinivas (Flute), Suresh Prasad (Tabala), Swamy (Rhythms).
Harmony: Students of Keerthana Academy (Bhuvana Swaraja Challa, Meghana Naidu, Akhil Chandra, Saketh Kommajosyula)
Camera & Lights: K. Rama Naidu
Recording & Mixing: Sai ManoharDubbaka
Editing: Srikanth Pudari
Assistant: Amar Reddy
Sound: Keerthana Recording Studios
Video Floor: String Wings
Thanks are due to fundraising team - Upendra Rachupally, Moorthy Rekapalli, Leela Krishnamoorthy, Banu Ramakrishnan, Dr. Raj Modi, KG Venkatraman, Srini Vangimalla, Shankar Setty, Meher Lanka, Neelima Gaddamanugu, Sowmi Narayan, Shyam Appali, Narayan Indurthi, Vamsi Krishna Eruvaram, Dr. Jagannath Vedula, Raj Aila, Prasad Rani, Ramesh Chaparala, Srinivas Ganagoni, Krishnaraj Bhat, Dr. Madhuri Namuduri, and Jayakiran Pagadala for their outstanding contributions to 2022-year end fundraiser.
Thanks are due to all Board of Trustees, Volunteers, Philanthropists, and supporters who are working selflessly to restore vision to indigent patients.
Thanks are due to Moorthy Rekapalli and Bhaskar Ganti for MESU (Mobile Eye Surgical Unit) project, Dr. Kishore Chivukula for sponsoring a Consultancy room, and the following ADOPT-A-Village donors Shankar Krishnan (California), Dr. Govinda Visvesvara (Atlanta), Leela Krishnamurthy (Houston), Dr. Raghava Reddy Gosala (Philadelphia), Dr. Kishore Rasamallu (Atlanta), Murali Sajja (Atlanta), Subrahmanyam Naidu (Atlanta), Ashok Kanagal (India), Srihari Santhosh (Metro DC), Anand Dasari (Dallas).
President of Medical Research Foundation, Dr. Girish Rao thanked the efforts of Sankara Nethralaya USA and the service of NRIs.
Thanks are due to media partners manaTV, TV5 (Sridhar Chillara), TVAsia (Srinivas Ganagoni), Sakshi TV, US1 (Simhabaludu), TeluguOne (Subbu Kosuri), KIW WORLD TV (Srihari Kommineni) for promoting Sankara Nethralaya virtual streaming concert on Dec 4th, 2022, at different timings to give the flexibility to all viewers in different time zones.
SN USA, our fund-raising arm in US was given the given the highest rating of four stars by prestigious rating organization, Charity Navigator. Please extend your support for this noble cause of restoring the vision to indigent patients by generously contributing at https://www.sankaranethralayausa.org
Content Produced by Indian Clicks, LLC