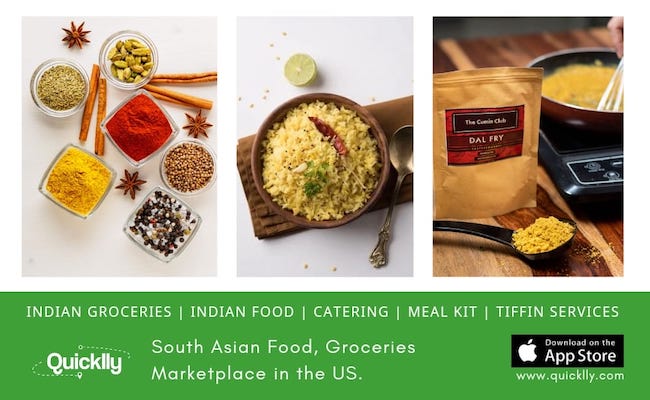 The first thing any Indian looks for in the USA is most certainly Indian food and groceries. No matter what cuisine you try or what other purchases you make, the Indian in you will always long for the desi goodness. Quicklly understood this yearning of every Indian abroad and hence created a one-stop solution for it all.
You can now simply log on to Quicklly and browse from a range of Indian Restaurants and Grocery stores to serve all your desi cravings.
The popularity of Indian cuisine and stores in America has only seen a rise in recent years because of the Indian population that has made the country their home. Dishes like Chicken Vindaloo and Vada Pav have gained popularity even amongst the Americans, so certainly Indian restaurants are opening up on an even larger scale.
However, not everyone is able to connect with their favorite spots for Indian food; hence Quicklly is here to bridge the gap between Indians and their favorite food items.
Get All Things Indian From Quicklly
No matter what food you want to devour, Quicklly offers a wide variety of dining and grocery shopping options for you:
- Indian Restaurants
There are ample restaurants listed on Quicklly that serve Indian cuisine from various regions of India. Be it the authentic North Indian cuisine with Naan, Chicken Tikka and Chole, or savory South Indian cuisine with Sambar, Uttapa and Idli, Quicklly's got it all for you.
For the best Indian Food In Chicago, Sunnyvale, Cupertino & San Jose you can visit ROOH Chicago, Tikka N Curry, Himalayan Restaurant, Kabila and Naan on Devon.
- Indian Groceries
Talking about Indian groceries, there is not a place where you can find Indian groceries better than Quicklly.
The top Indian Grocery Store In Chicago, Mountain View, Dublin, Los Gatos and Santa Clara are Kamdar Plaza, Par Birdie Foods, Five Spice, Khorasan Market, and Fresh Farms where you can get your hands on a range of Indian spices, snacks and other essentials. These Indian grocery stores offer an assortment of grocery items right from the lanes of India.
Whether you're craving for a bowl of Maggi or want to munch on some Monaco biscuits, get it all from Quicklly. But that's not all, there's more to it.
- Indian Meal Kits
Quicklly also offers Indian Meal Kits that you can create according to your needs. These meal kits are prepared in a way that all it takes is just five minutes for you to get the food ready. Dal Fry, Palak Paneer or Pav Bhaji, just open the pack, pour in hot water, wait for a few minutes and then enjoy your delicious food.
You can order your meal kits at Quicklly from The Cumin Club and get it delivered anywhere across the USA.
- Food Catering
Quicklly also offers Food Catering Services where you can place your orders for Indian food to devour during family gatherings, parties, birthdays and a lot more. Every dish offered is prepared by the best chefs in town and will surely make you nostalgic reminding you of the taste of your mother's home-cooked desi meals.
- Tiffin Services
For people who are busy with their lives and are looking for an on-the-go option to devour dishes from the Indian cuisine, Quicklly presents Tiffin Services with authentic Indian meals that will leave you asking for more. You get a variety of dishes that you can choose from, then select your delivery slot and voila, your ready to eat scrumptious meal will reach you on time.
Enjoy Free Delivery with Quicklly
Whether groceries or food, Quicklly delivers everything right to your doorstep. What's more? You can also save big on delivery charges as Quicklly is offering free delivery! Some of the top locations across the USA where Quicklly serves are Chicago, Los Gatos, Sunnyvale, San Jose, Cupertino, Fremont and Dublin.
Getting all your Indian food cravings served is now just a few clicks away, so hurry now and head over to Quicklly for an amazing shopping experience.
Press release by: Indian Clicks, LLC