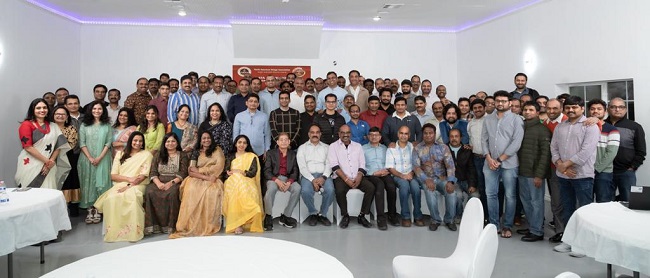 It was a historical moment of NATA for the upcoming NATA Convention on June 30th, July 1st and July 2nd of 2023. The meeting witnessed over 150 members coming at one place to kick-off the Convention planning.
The venue was El Dorado Ranch. Dallas area Regional Vice Presidents Dr. Rajendra Polu, Prasad Choppa, Chenna Reddy Korvi, Veera Reddy Vemula and Pushpaditya Palleti welcomed the team and supported the logistics for kickoff meeting.
Dr. Sridhar Korsapati in his opening remarks welcomed all the members and congratulated and requested them to make the NATA Convention 2023 a grand success. He thanked Dr. Prem Reddy NATA Advisory Chair, Emeritus and the entire board for entrusting the NATA convention event. He then announced NMS Reddy as the convener for the upcoming convention. He also declared Dr. Rami Reddy Buchipudi as the Coordinator, Krishna Koduru and Ramana Kristapati as Co-Conveners, Bhaskar Gandikota and Mallik Avula as Co-Cordinators for the convention.
NMS Reddy in his opening remarks thanked Dr. Prem Reddy and the entire NATA board for entrusting the most important post for the event and shared that he will take up the responsibility with utmost attention and dedication.
Dr. Rami Reddy Buchipudi later introduced the local NATA team and stated that he is happy to be part of the NATA convention 2023 and requested all the convention committees to collectively work in cohesion and to ensure the event is a grand success.
NMS Reddy later announced the chairs and co-chairs. Below are the chairs for the respective committees:
President - Dr.Sridhar Reddy Korsapati
Convener - NMS Reddy
Coordinator - Dr. Rami Reddy Buchipudi
Co-Convener - Krishna Reddy Koduru
Co-Coordinator - Bhaskar Reddy Gandikota
Deputy Convener - Raman Reddy Kristapati
Deputy Coordinator - Mallik Avula
Alumni Srinadha Reddy
Audit - Rajashekar Gade
Arts & Crafts - Dhana Veerabhadra
Banquet - Madhu Mallu
Business Seminars - Chandu Reddy Chintala
CME - Dr. Srinatha Reddy
Corporate - Thirumala Reddy Kumbam
Cultural - Darga Nagireddy and Arya Bommineni
Decoration - Anuradha Mekala
Exhibits - Suresh Reddy Vulavala
Food - Subba Reddy Kondu
Hospitality - Ravi Arimanda
Immigration - Linga Reddy Gunapaneni
Help Desk - Mohan Mallampati
Language & Literary - Narasimha Reddy Urimindi
Matrimonial - Naveen Keshavareddy
Media - Mahesh Adibhatla
Miss and Mrs. NATA - Usharani Chinta
NATA Idol - Madhu Gonipati
NRI - Konda Reddy Dwarsala
Overseas Coordination - Sudhakar Vippala
Programs & Events - Prasad Choppa
Panel Discussions - Krishnamohan Reddy Kunduru
Political Forum (Andhra Pradesh) - Shiva Annapureddy
Political Forum (Telangana) - Ramachandra Reddy Seelam
Publicity & Public Relations - Ravi Kona
Reception - Deepika Reddy
Registration - Subba Reddy Narpala
Security - Mallikarjuna Murari
Short Films - Yashwanth Reddy
Souvenir - Dr. Bhaskar Reddy Sanikommu
Spiritual - Sudhakar Pennam
Sports & Health - Chinasatyam Veernapu
Transportation - Rajendra Polu
TTD Kalyanam - Mallik Avula
Venue/Stage/AV - Veera Reddy Vemula
Volunteers - Kishore Vangala
Web - Chennareddy Korvi
Women Forum - Swathi Sannapareddy
Youth - Geetika Katasani and Sundar Maddikarra
The convention team recognized and thanked the NATA BOD members and also those from Dallas who were part of the kick-off event. Vishnu Battula, Ramana Potlur, Jayachandra Reddy, Venkatramana Reddy Murari alongside Dr. Ramana Reddy Guduru and Ramasurya Reddy who were instrumental in making the Dallas 2016 convention a memorable one. These leaders who were present wished 2023 NATA convention a great success.
Bhaskar Gandikota thanked the NATA Dallas team for coordinating the logistics and laid the action plan for the next coming weeks. Each committee chair spoke at length and their respective committee and vowed to ensure the convention is a big success.
The convention will be held at the world famous Kay Bailey Hutchison Convention Center Dallas aka Dallas Convention Center. Please look out for more updates at https://nataus.org