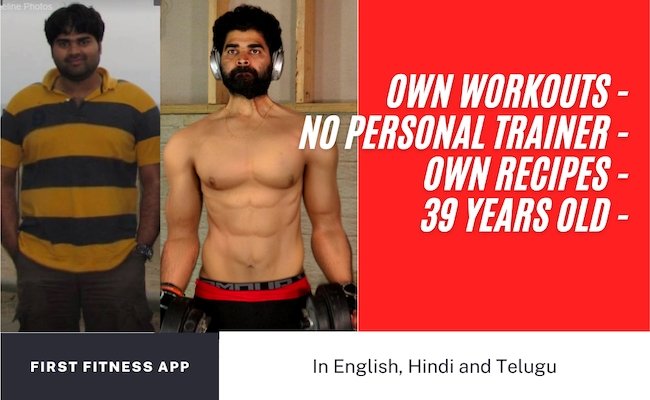 Fitness At Your Home - First Fitness App in English, Hindi and Telugu.
I was so lean till my teenage and started putting on weight during my bachelor's degree due to exposure to a variety of food on Indian streets.
Same thing continued when I moved to the United States. I was all the time partying with lots of junk food and booze.
By my late 20's, I was weighing 245 pounds. Even though I was doing well in all aspects of life, somehow I was always lacking confidence and put myself in the back of the group.
In 2010, when I was 28, motivation stuck me in the form of great humiliation from my friends in casual hangout discussion.
"Am I not able to spend at least one hour out of 24 hours for my body appearance" is the question I have asked myself.
Here are the consequences
- Tens of months
- Thousands of miles
- Countless number of hours in GYM
- Self-mentoring
- My own ruthless rules
- Crusts and toughs throughout the journey
Being connoisseur of food, dealing with 1 foot forward / 2 feet backward weight loss realistic problem became pain in the neck
But still I was fighting
Acting like not at all listening to words of detractors where in reality using those humiliating words as core energy to self-compelling
In matter of 18 months, I lost 55 pounds
This is definitely not a success story, indeed it is a story of pulling myself away from failure when I'm almost at the verge of losing.
I maintained the same fitness range till 2016 and after that I was getting fat due to very few bad habits. The more I tried to get it under control, the situation was deteriorating.
This time I lost all my fighting spirit and almost gave up
I infused meditation in my daily routine, rehashed entire workout schedule with very minimal equipment at home and chalk out diet plan that fits me
There was a time I didn't lose a single pound even though I have been working for 2 to 2 and half hours and eating good nutrition, but still I didn't lose hope. I just want to see what I wished
I was working, running, cycling, boxing, lifting weights and playing outdoor games. I literally gave my 200% to achieve my ever best version
This is more of not inspiring others who want to lose weight, it is a kind of warning message to the people who are already around good fitness range but recently started gaining weight.
You might have already seen so many successful transformation videos from movie stars and some other random folks, they all are aided by professional fitness coaches, dieticians, nutritionists and group of experts. I personally filled in all of these roles and invented cure to my obesity
But this is my story, my journey, my own rules of working out
I know how it is being fat as I was like you in past
I made an app where you can access all my workout plans and food recipes from my weight loss journey.
What the pretty good thing is you can do 90% of the workouts at your home with very minimal equipment that too at the comfort of watching TV. There are workouts from day 1 to day 18 with no repetitive workout until day 18 is done
These workouts will cover your entire body and can be done by both men and women…….and if you are go Gym Goer, I have 12 days workout plan from Gym too
All these workout plans, be it from home or Gym and food recipes are available to you once you become a member. It just costs 19.99 dollars to access all these videos for life time…. Yes!!!!!!! you heard it right…..all the videos are available for 19.99 dollars, it is less than one large pizza or two entrées from any restaurant or one family pack biryani
Once you start gaining weight, it is a kind of wicked daemon which will encroach on you in no time and starts spilling seeds of depression in your mind.
I want to help you guys to achieve your dreamed physic
Think smart and act accordingly and finally good luck to all the members
Please visit our website for more details
www.FitnessAtYourHome.com
You can find our app on Play Store and Apple Store
https://play.google.com/store/apps/details?id=com.tech.fitnessatyourhome
https://apps.apple.com/us/app/fitness-at-your-home/id1584546818
Content Produced by Indian Clicks, LLC