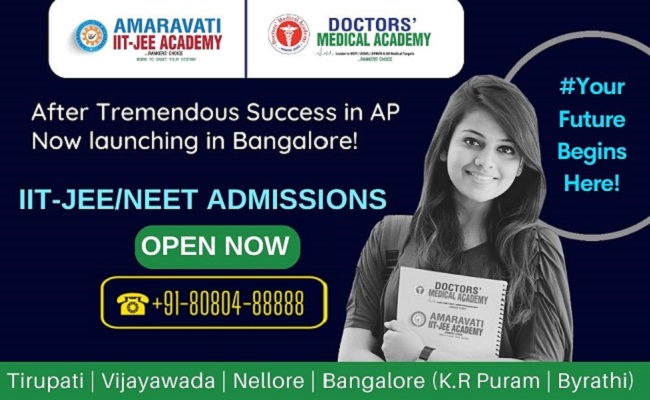 Education is not the end in itself. It is the stepping stone towards a meaningful life that will ultimately delve into success, happiness, glory and integrity!
Nowadays brand names tend to mislead oneself. Do not fall into trap! Unlike others, the BVK group of institutions - Doctors' Medical Academy & Amaravati IIT-JEE Academy are determined to help the ordinary students to achieve extraordinary goals.
Our historic achievements include a top score of 665/720 in NEET, 99.96 percentile in JEE Main and a fascinating 103rd rank in JEE Advanced
Here is more to it!
We have already made our mark in Tirupati, Vijayawada and Nellore. Now we are delighted to announce the launch of yet another branch in Bengaluru under the aegis of Mr Srinivas Reddy who has vast experience in the field of education.
His monumental achievements are revered and respected in the educational circles including 1st rank in KCET and the tantalising 1st rank in JEE Main.
Set a goal ! Strive to achieve it!
Be wise and act smart. Choose the best!
Success starts with a good decision at home, and then the world bestows you with bountiful!
Join our Academy! We make your dreams come true!
Admissions Open Now! For more info, please visit us at https://bvkgroup.org/gacampaign or call us at +91 8080488888.