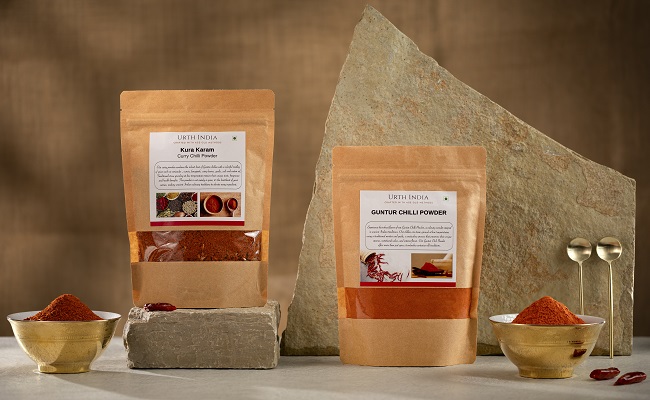 Urth India's "Guntur Karam" has garnered significant international attention. Within just a few days of being available on our website, we have successfully sold hundreds of packs worldwide, with a major portion of sales occurring in the USA.
Guntur is renowned for its Chili Powder, which enjoys global recognition among the Telugu community and beyond. However, there is a traditional method of crafting authentic chili powder that is often overlooked in this era dominated by machines and brands.
Typically, the chili powder available in the market, regardless of the brand, is produced by grinding dried chilies along with their stems. This process does not yield the purest form of chili powder. At Urth India, we produce our chili powder without incorporating dried stems.
Moreover, our mission is to introduce people to the rich and robust flavor of our Guntur Chili Powder, a culinary marvel deeply rooted in ancient Indian traditions. We meticulously grind our chilies using a traditional mortar and pestle at low temperatures, preserving their distinctive aroma, nutritional richness, and intense taste. Our Guntur Chili Powder is not just about adding spice; it encapsulates centuries-old culinary heritage.
Our motto is not focused on selling in large quantities but on delivering a healthy, traditional serving.
Content Produced by Indian Clicks, LLC