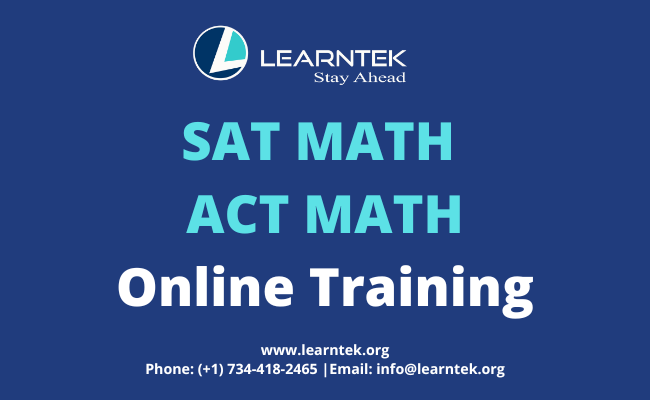 Are you planning to take the SAT exam soon? Are you looking for a way to boost your math score and increase your chances of getting into your dream college? Look no further than our SAT Math training program!
Our program is designed to help you master the math concepts that appear on the SAT exam. With our experienced trainers and comprehensive curriculum, you'll gain the skills and knowledge you need to tackle even the most challenging math problems on the test.
Our SAT Math Training Program covers a range of topics, including:
- Solving linear equations and linear inequalities
- Interpreting linear functions
- Linear inequality and equation word problems
- Graphing linear equations
- Linear function word problems
- Systems of linear inequalities word problems
- Solving systems of linear equations
Topics: https://www.learntek.org/sat-math-training/
Our trainers will guide you through each topic, providing clear explanations and real-world examples to help you fully grasp the concepts. You'll also have plenty of opportunities to practice with sample questions and full-length practice tests, so you can build your confidence and improve your scores.
Investing in SAT Math training is an investment in your future. By improving your math skills, you'll increase your chances of getting into the college of your dreams and pursuing your chosen career path. Plus, you'll gain valuable problem-solving skills that will benefit you throughout your life.
Don't let math be the thing that holds you back on the SAT exam. Join our SAT Math training program today and start building the skills you need to succeed!
- SAT Math, ACT Math, PSAT
- Math, Science & Coding for High School Students.
https://www.learntek.org/ap-classes-online/
Contact Information :
Email: [email protected]
USA: +1 734 418 2465
Content Produced by Indian Clicks, LLC