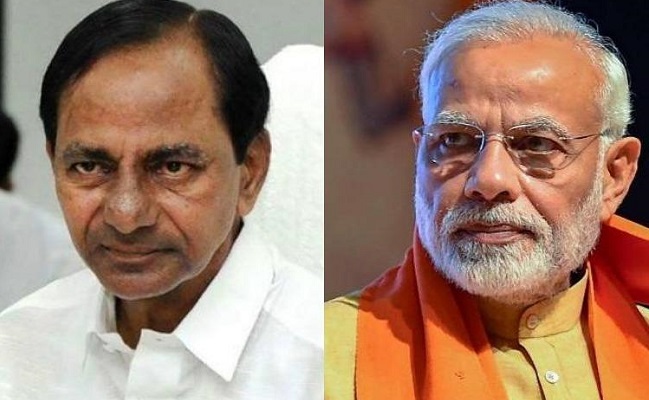 The three-day tour of Telangana Rashtra Samithi president and chief minister K Chandrasekhar Rao to New Delhi from September 1 has led to the talk of whether he would be seeking an appointment with Prime Minister Narendra Modi or any other central ministers.
KCR will be leaving for New Delhi at 1 pm on September 1 along with senior party colleagues. He will lay foundation stone for the TRS office at Vasanth Vihar in the national capital, where the party was allotted 1300 square yards of plot.
According to party sources, KCR wanted it to be a major event, as he asked all his party MLAs, ministers, MLCs, MPs and party state executive committee members to attend the programme, to be held at 12.30 pm on September 2.
He would stay back in New Delhi for the day and return to Hyderabad only on September 3 evening. Since the TRS chief has reserved a lot of time for himself in Delhi, it led to the speculation that he would be meeting a few central ministers.
Sources said KCR might also ask for an appointment with the Prime Minister to discuss certain issues with him, especially with regard to state finances, coronavirus situation and also the ongoing tussle with Andhra Pradesh on Krishna river water sharing.
It has been a long time since KCR went to Delhi and met the Prime Minister. The last time he had a meeting with Modi and Union home minister Amit Shah was on December 12, 2020 to discuss the pending issues of the state.
It remains to be seen whether the TRS chief would make any such attempt this time and succeed in getting Modi's appointment.