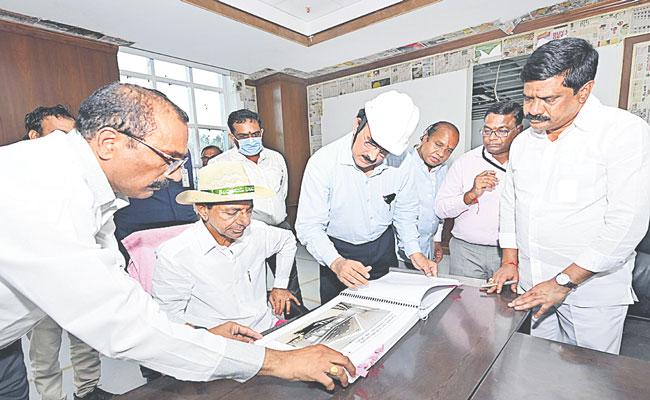 It is a known fact that Telangana Rashtra Samithi president and chief minister K Chandrasekhar Rao has a strong belief in astrology, Vasthu and other superstitions.
He regularly consults his astrologers and Vasthu experts on various issues and performs homams and other Vedic rituals that he believes would fetch him victory and a lot of other benefits.
That is precisely why, the Telangana chief minister had refused to step into the state secretariat building and got it demolished to build a new one at a huge cost of over Rs 500 crore, ignoring the criticism that it would cause huge burden on the state exchequer.
Now, the same Secretariat complex under construction is said to have become a big headache for him.
According to sources, astrologers told KCR that he should occupy the chief minister's chamber in the new Secretariat at any cost by coming Dasara festival, which falls on October 5.
They reportedly told him that he should be in the CM's chair for at least one year, if he has to return to power again in the next assembly elections.
Since there are no auspicious muhurthams after that, he should occupy his chamber by Dasara festival under any circumstances.
That is why, the chief minister is said to be hurrying the builders – Shapoorji Pallonji to complete the Secretariat complex before Dasara.
The works, actually, should have been completed by now, but due to Covid-19 pandemic, they got slowed down.
Now, the contractors are racing against time to complete the building and following KCR's orders, state roads and buildings minister Vemula Prashant Reddy is regularly monitoring the progress of works.
However, the contractors reportedly conveyed to the government that it is next to impossible to bring the building into operation, since a lot of works including electric works, are pending and they cannot be completed within a month.
Sources said the government is bringing pressure on the builders to make at least the CM's chamber ready, so that he can occupy the chair formally.